Hilda Ann Salusbury (1906-1993) : An Introduction
'My lovely, laughing mother gone forever. No more parties, no more singing. The joy had gone out of my life and all the love had flown.' (28)
Hilda Ann Salusbury, (also known as Ann) was born in 1906 in Great Yarmouth, a fishing port on the Norfolk Coast. She was the eldest child of four, all born within four years.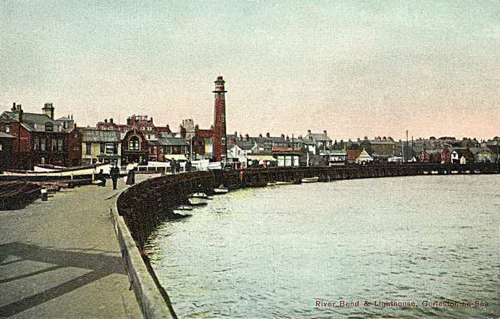 Hilda's 271 page memoir, 'Only My Dreams: An English Girlhood' was written in 1988 and published two years later in 1990. It follows her life from the early childhood years in Gorleston-on-sea, through to the 1930s as a young working woman. In this time, Hilda transforms into a very independent and resilient young woman. Despite a series of unfortunate events that she is faced with throughout her life, she manages to work hard and qualify as a district nurse; a job which she thoroughly enjoys and puts her heart and soul into.


The first chapter of 'Only My Dreams' sets the scene of Hilda's childhood. She talks of happy times with her mother, father, Grannie and siblings all living together 'in a large old-fashioned house' (1) and memories of the children getting into mischief almost every time they left the house. The happy times she remembers from childhood however, are short lived and the tone soon changes in the second chapter titled 'Deserted'.

Something that really struck me about Hilda's memoir when choosing my author was that her mother deserted their father and the four children during the First World War. This meant that the burden of raising the family fell upon the frail shoulders of their Grannie, who had raised twenty-one children of her own. "Grannie", however, soon became too old and sick to look after the house and the children, which meant that Hilda had to leave school at the age of fourteen to 'take charge of everything' (63).

From a young age, Hilda was very family orientated. On a number of occasions, she gives up everything in order to look after her family. At fourteen, she is made leave school to take care of the house and family instead of getting the scholarship for teaching she wanted so much. Her father tells her 'you will have to forget all that' (63) and she does as he says. History repeats itself again when she is asked to give up her nursing career 'and come back home to take care of father'. (265) Once again, she does just that, putting the needs of her family before her own.
'Only My Dreams' appealed to me because I found it relatable in many ways; despite the ninety year age difference between Hilda and myself. The strength and determination that she displays throughout her memoir is admirable and it gives a sense of hope to the struggling working-class person, even if this was not Hilda's intention. The title 'Only my Dreams' is significant because it reflects how Hilda felt as a young girl. She dreamt of having her own career and family but was restricted by her father for many years. Eventually she went on to lead a life without the poverty and struggle that she felt as a young adult, stood up to her father and created a better life for herself. One she had always dreamt of.


Hilda dedicates her memoir to her two grandsons, which gives it a personal touch. On the other hand, taking into account that it was published as a book, it seems that it was intended to reach a wider and less private audience.
Bibliography

Salusbury, Hilda Ann. Only My Dreams: An English Girlhood, Burnett Archive of Working Class Autobiographies, University of Brunel Library, Special Collection Library, vol. 4

Image References
Lighthouse – Gorleston-on-sea
http://www.photographers-resource.co.uk/A_heritage/Lighthouses/LG2_EW/Gorleston_Rear_Lighthouse.htm
Cycling District Nurses
https://historyofdistrictnursing.wordpress.com/category/travel/
Child Housekeeper
https://i.pinimg.com/originals/57/38/85/5738851178433c7d2d938e653eee68b5.jpg