Rosa Bell (b. 1902): An Introduction
"…the closeness to each other and all the friendly feelings carried us along and we still had some Happy Days in the 1930s." (pg. 41)
 The handwritten memoir of Rosa Bell, titled R.hn. Remembers, is a nostalgic account of a young woman who reflects back on the best, as well as the toughest, days of her life and what circumstances led her to achieving happiness even amidst the inter war years of Great Britain. What strikes me immediately about Rosa's work is that every part of her story never introduces a new chapter by focusing on a stage of her own life as well as the occurrences of the working class communities of her day.
We gain an impression of a very selfless and caring individual who could not be more grateful of the life she had been given and the care she has received by the ones the mean the most to her. She documents many of these individuals in the family tree that she includes in her memoir. We are first introduced to her father, Joseph Holliday. His wife was Elizabeth Kennedy, who bore seven children, with Rosa being the youngest. One brother, quite interestingly, was named Baden-Powell (b. 1900) after the national British hero and innovator of the boy scouts, Robert Baden-Powell, who was at the height of his fame at this time. Rosa hailed from Cumberland and her family history is firmly rooted in that area.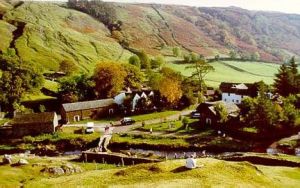 Rosa recollects her family and friends with fondness and contentment. Her father is who we meet first rather than the author of her own memoir:
"Can you imagine a wee fella just about 3ft tall and only 7 years old standing at the bedside of his dying mum when she put out her hand and stroked his wee head and told him […] grow up a fine man." (pg. 1)
It might seem strange that Rosa knows such a private detail about her father's life, which tells us straight away that they must have shared a very close bond. It may not seem out of the ordinary for parents to share such personal details with their children today but we often think that people were more reserved in the early twentieth century. Rosa's memoir reminds us that family history and memory has been as important in the past as it is for many of us today.
Her father was a coal miner clerk who would return to the home every night in his dirty clogs completely blackened from head to toe. In another intimate story, Rosa recalls her father courting her mother. Elizabeth Kennedy, a village dressmaker, was discouraged by her friend from marrying Joseph. The friend objected to his filthy appearance and said Elizabeth would be marrying beneath herself. But Elizabeth paid her no mind, and decided for herself that Joseph wouldn't always be that way.
Rosa was a staunch churchgoer, and she fondly remembers herself and her father singing her favourite hymns in the choir of her local church, including 'When I Survey The Wondrous Cross' and 'The King of Love my Shepherd Is'.
Lastly, she talks about her village youth club where she enjoyed magic lantern shows and concerts with fabulous entertainers, which would bring a great deal of enjoyment for her during traditional holidays.
The descriptions of Rosa's country home and the realistic recollections of the events of her life are as colourful as they are endearing.
"I was so sensitive always so nervous and afraid, just happy to roam the fields listening to the Birds and finding their nests and picking the wild flowers." – (pg. 8)
Rosa is very much a story teller as opposed to the writer of a memoir. Although her style is not the most eloquent or the most focused, it is all very much told as a joyous recollection of which she does appear to be the main character. What inspired her to write her memoir at the time can possibly be sought out by learning about her hardships and influences. The story of how happiness can be found even at the worst of times.
Bibliography
R.hn. Remembers. Bell, Rosa. Brunel University, July 1987.
Picture reference:
http://mssockettsenglishcourses.weebly.com/cue-for-treason.html
Useful:
Hymn 'The King of Love my Shepherd Is'. Baker, Henry. Psalm 23, 1868. Is'
Hymn 'When I Survey The Wondrous Cross'. Watts, Isaac. Hymns and Spiritual Songs, 1707.