Margaret Watson (b.1907) Reading and Writing
"I was due to leave school in three weeks as I would be fourteen years of age. Bessie suggested Domestic Service. I said "No!"" (p.11)
Following the Education Act of 1918, which raised the school leaving age to 14, education opportunities vastly improved for working-class girls like Margaret during the 20th century. With this, job opportunities for women in new industries and professions that were separate from domestic service were opening up through the 1920s and 30s. The education that Margaret received under this Act proved to be extremely useful to her after leaving school, and in her memoir, she discusses how her ability to read "notices in the window" (p.17) helped her to acquire two jobs at the age of fourteen; "I left school and started to work at Templeton's Carpet Factory… One day I saw a notice in the window of a place called "Nairn's Hostelry." They required kitchen help from seven until ten in the evening… I enjoyed my "other" job." (p.17)
It is also a result of her writing ability that Margaret is able to obtain a place to live. She describes how after having weeks of "no luck" finding lodging accommodation, (p.20) "the owner [of a newsagent shop] suggested I go up the close just next door and ask the old lady inside… [who] the man informed me was stone deaf" (p.16)
"The old lady handed me a slate, a piece of slate pencil, asked me to write down my business. I wrote "Please can you give me a room?"…I handed the slate to her and straight away she said, "Yes, I shall be glad of your company"" (p.16). Margaret lived with the lady for many years, and although she would often "require the slate to converse" (p.16) she recalls how she became a "dear old friend and adviser" (p.17). It is perhaps because of the practice Margaret obtained when writing regularly on the slate that resulted in her ability to write her memoir with such skill and accuracy.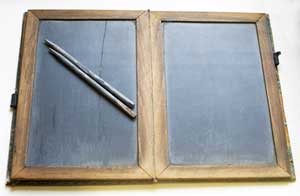 Margaret's autobiography is written with great flair, and at times, her writing often slips into what could be identified as a rather melodramatic mode; especially when speaking about issues concerning sexuality or her reputation.  Julia Swindells considers this issue in her book, Victorian Writing and Working Women (1986), and discusses how during the nineteenth-century, working-class women when writing their autobiographies, would "call on" the fictional representations that were available to them. These representations, Swindells believes, were most commonly taken from romance novels (Swindells, 11).
Although in her autobiography, Margaret does not specify particular pieces of literature that she has read, I think it is quite possible that Margaret herself may have been influenced by the romance novel when she came to represent her own life in her memoir, as certain memories that she recalls are done so in an evocative and often dramatic way. When recalling the affection she held for her friend Simon, "a Dutch sailor" whom she sometimes refers to as "the Trooper" (p.26), her account of their relationship almost reads as a separate, forbidden love story within the pages of her memoir. Margaret remembers how Simon, "who sailed on a Dutch troop carrying ship" (p.23) often docked in Glasgow at regular intervals, and so while her husband, a member of the R.A.F "was in Port Elizabeth, South Africa", she would go to visit Simon often (p.24). Although Margaret does not refer to the nature of her relationship with Simon as anything other than friendship, it is clear from the loving way in which he is depicted that there was an intimacy shared between the two that was of great importance to her; "There are events which happen just once in one's life and are always remembered, meeting Simon was one of them… we had met too late in life but I was happy we had met" (p.31). At one point, Margaret even refers to Simon as hers; "When the war ended… My husband was home… My Dutch trooper had gone, never to return" (p.31).
Margaret's tone throughout these pages seems to be filled with feelings of regret and almost evokes a sense of longing. When she speaks about her past with Simon, the romantic notion of 'what could have been' is imparted on the reader.  Although we cannot know with certainty if this is the case, there seems to be the implication in these passages that Margaret may have desired a romantic relationship with the Dutch sailor. There is a clear contrast between the loving way in which Simon is spoken about in comparison to the picture Margaret paints of her unhappy marriage. Considering this possibility, Margaret's fear of tarnishing her respectability may provide a reason for why she has refrained from speaking about her feelings for Simon explicitly in her autobiography.
As David Vincent discusses in Bread, Knowledge and Freedom (1982) respectability and reputation was of great importance to working-class men and women during the nineteenth century (Vincent, 108).  As the Victorian sense of respectability stressed domesticity for women and focused on their ability to be good wives and homemakers, it would have been detrimental to Margaret's reputation to indicate that her relationship with Simon was anything more than a close friendship. It is perhaps as a way of protecting her reputation as a respectable wife and mother that Margaret tells the reader of how she would not keep the gifts she received from Simon for herself, but would rather pass them on to her children for them to enjoy; "It was the most beautiful cameo brooch… I gave it to my daughter when she became twenty one" (p.23)… "I left the ship with lots of food and chocolates… My family were delighted by all the extra food to eat" (p.26).
Margaret would also write to her children when they were evacuated "to an isolated farmhouse in Kinross" during the War (p.21) and recalls how in return, she "received a letter from my little daughter asking me to come and take them home, saying they only had a "Kanel" light" (p.22). During their separation, we are told how Margaret's literacy was not only used to communicate with her children, but also with the authorities, as she was "not at all impressed" with their living conditions; "I wrote to the authorities applying for a change of residence for my family [and] returned to Kinross to bring them all home" (p.22). It is a result of Margaret's writing capability- and the education that she received at school- that she is able to protect the welfare of her children. There is a desire to learn that propels Margaret throughout life, and this,  I believe, is so that she can provide her children with a better childhood than the one she experienced herself. Through her determination to continuously develop new skills, Margaret surely achieves this.
---
Burnett, John. Mayall, David and Vincent, David (eds) The Autobiography of the Working Class: An Annotated, Critical Bibliography (Brighton: Harvester, 1897) Vol: 2 No: 802
Swindells, Julia. Victorian Writing and Working Women. (University of Minnesota Press, 1986)
Vincent, David. Bread, Knowledge and Freedom: Study of Nineteenth Century Working Class Autobiography. (Routledge, 1982)
Image References:
School Children in a Classroom, 1927. (Accessed: 29/12/2014)
Writing Slate and Slate Pencils. (Accessed: 29/12/2014)
Glasgow Evacuees. (Accessed: 30/12/2014)