May Owen (b.1896): Researching Writing Lives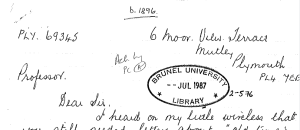 I have thoroughly enjoyed being a part and contributing to the writing lives website as a part of my final year in Liverpool John Moores. Learning about the lives of 19th and 20th Century people has been very fascinating and to be able to have a firsthand look into May Owen's experience of this time and then to research around her life and the things that happened to her has been pleasing experience when writing my blog posts. Every time I re-read Owen's blog post I discovered something that I did not notice when reading it previously which meant that my time writing each blog post did not become boring as I was able to add in something that was newly discovered for me. One of the most intriguing parts of Owen's blog was her father and how he tried to reform himself while recovering from his alcoholism by helping build a sea wall along the Thanet coast.
However interesting Owen's blog has been because of some of the lack of detailing in her autobiographical letter it has been very hard to research her any further than I was able to. Going off some details I was able to find some extra information of her life but due to the lack of it and with such a common name as May Owen and as she didn't mention anybody else in her life by their name it was hard to find the correct May Owen. However when using other sources such as images or quotations I tried to find the most relevant and as close to the time and location to what Owen had put in her letter.
I feel like I have contributed to public history by giving the public an easy route into looking into the lives of 19th and 20th Century people, by writing these blogs have taken snippets of May Owen's life and written detailed posts about her whilst giving first and secondary sources to reveal the life that she and others would have experienced.
I do have previous experience in blogging as in my second year of studying English and Creative Writing I did the module, 'Prison Voices' although there were some similar parts and skills that I used for this module. It was still very different as I was writing about the same person every time which meant that for this blogging experience I had to make sure that my blog did not become repetitive but instead would still keep the reader interested and want to continue with May Owen's life in my blog posts. Doing this module has also showed me how much you can discover about one topic whether it is first or secondary sources and to be able to use the relevant ones with each blog post.
Using Twitter for this module has been very valuable as it has allowed me to promote my work, other students work as well and support the Writing Lives twitter account by regularly checking it for anything that might be of use to myself or others on the course. Although I had used Twitter before on the Prison Voices module I found that this year more of the collaborative research group pulled together and promoted each other's work which was been very encouraging in the work I was putting out there on the website.
I will take away from this module many of the different researching skills as well as the benefits of social media to show off my work and allow it to reach more places that it would have done before if I didn't use hash tags or use photos and links to my work which allowed people easy access to find my work but also the website to see what other pieces of blogging there is.
Bibliography
May, Owen. Autobiographical Letter. Burnett Archive of Working Class Autobiography, University of Brunel Library, Special Collection, 2:576