Billie-Gina Researching Writing Lives
Being a novice blogger I was initially concerned about what would be asked of me during the Writing Lives project. Although I have been interested in blogging for a while, initially I was not overly concerned with writing about somebody else's life. Yet Writing Lives has been a fantastic launching pad into the blogging world and the skills I have developed will hopefully lead to me creating my own blog and continuing my research on Minnie Frisby.
Writing Lives has enabled me to write with purpose and concisely, both of these transferrable skills I can use in other modules and in particular my historical Independent Study. Stylistically my writing has become direct and I have been able to actively write for an audience. I have read other blogs and tried to engage with my primary and secondary materials in an interesting way that is easier for people to read online.
I have thoroughly enjoyed the project as a whole. However, gaining access to the census on Ancestry and following Minnie's progression throughout the decades was really exciting. Having census access allowed me to connect with Minnie and develop a working relationship with her memoir. There should be a bigger push for students to have the access to such documentation to consolidate their writing and connect with their authors.

Through publishing my posts I feel as though I have brought Minnie back to life. Having my work remain archived online is wonderful and I enjoy knowing that people can read about Minnie and hopefully get a sense of her personality and attitude. I have also enjoyed submersing myself in somebody else's life and hopefully I have been able to celebrate her positivity and showcase her humble nature.
The use of social media has really allowed me to develop my own research skills by using Twitter and Facebook for something other than tagging friends or taking selfies. Social media is a tool to be exploited and this is something I will continue to develop and work on in my post-graduate life.
Through the website and Twitter I was able to connect with public historian Hilda Keen as she enjoyed my Purpose and Audience post so much she wanted regular updates of my writing. I learned through Twitter that tweeting and retweeting allow for a broader readership and academic links to my own writing.
As well as Twitter, I contacted the Bromsgrove Past and Present Facebook page which allowed me to post my writing and connect with people living near to where Minnie did. Unfortunately I had no leads from family members or images of Finstall and Worms Ash. However, I was able to get my work recognised and again, publish to a wider audience.
Now at the end of Writing Lives I will take away with me a great sense of pride in that I was able to introduce the world to Minnie Frisby. Her writing depicts her as a humble but strong willed woman. In the future I would like to further research her and her family in more detail.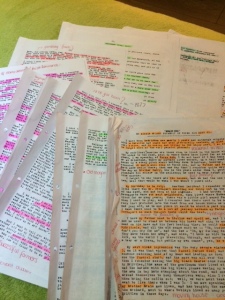 I have become a confident blogger and I am continuously developing my writing skills. I have also developed my analysis of primary sources, something which I can use throughout my history modules.
Finally, from working alongside Minnie I have made a connection with her and I will take away the desire to celebrate achievements and continue working hard, something which came through strongly in 'Memories'. I will end with the last lines of Minnie's memoir which clearly highlight her positive attitude and humble nature and being thankful for the life she led, something which all of us take for granted,
'The road has been very rough and rugged sometimes; have had my ups and downs, sorrow and joys; but God is good, and some way after the dark days here always seems to come the bright, and we have much to be thankful for – I try to.'
(December 28th 1951, Frisby, II:27)
References:
Frisby, Minnie. 'Memories', Burnett Archive of Working Class Autobiography, University of Brunel Library, Special Collection, 1:250
Images:
Death Index (Accessed: 9/12/14)
Memories (my own image)