Nora Isabel Adnams: Education and Schooling
'Our school hours were our happiest time, the teachers were very nice to us, unless of course we played them up.' (15)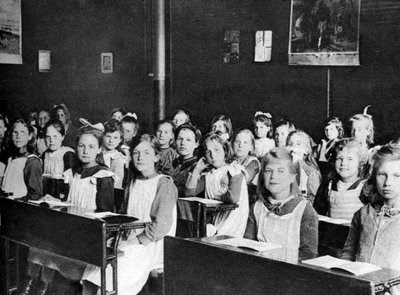 Nora Isabel Adnams' autobiography depicts her school life as a happy time, and remembers many of her teachers fondly. In this sense, Nora's autobiography is similar to most children growing up in the 1900's, in which she attended school until the age of 14. However, Nora grew up in Barkingside's Village for Girls – a Barnardo's children's home – meaning this part of her day is the closest thing she experienced of the traditional upbringing, and may explain why she looks back at the experience so affectionately.
Within the memoir, Nora details several of her own achievements, as well as reminiscing about several of the other girls skills. She is particularly interested in the girls' at the home who faced terrible adversities, and remembers their special talents in spite of this. Nora is fascinated by the child with a wooden leg, who got up to such 'antics, on the swings or the roundabout' (16), the girl 'so disfigured by fire … but was such a nice girl' (16) and 'the twins, who only had one finger on each hand … but the hand writing and needlework they did, put many a child to shame' (16). These memories are so powerful for Nora, and her writing really allows you to imagine and feel empathy for these children, and admire how they succeeded in education despite their troubles.
Although Nora enjoyed school, it is not to say she was the perfect student, as she describes several instances in which she broke the rules. On one occasion, she was made to wear a dirty pinafore to an afternoon class as punishment for being naughty at home. However, she refuses to admit this to the school, stating she felt 'loyal to my own cottage and would not tell tales on it' (16), and is put in the cloakroom as punishment. This is interesting to note, as although Nora much preferred school, it is obvious she felt a sense of belonging to Daisy Cottage where she lived.
The difference between chastisement from Nora's teachers and the "Mothers" at the children's home is something that this memoir is keen to emphasise. The "Mothers" often used physical punishments, with Nora asking 'Why should someone have it in their power to inflict such horrors on another person?' (9), her teachers, however, took a different approach. Nora remembers a particular telling off, stating 'She [the teacher] was so nice over it, "Now go home, Nora, and be a good girl"' (16), and seems to appreciate the kindness she was treated with. It is important to emphasise that corporal punishment was accepted in schools, and the abolotion of it was only 'finally achieved in 1998' (MacClean, 196), so the fact that Nora's teachers acted with sympathy would have been especially admired.
Nora also stresses that once she returned to her family, the kindness of teachers continues. On one occasion she confides in a teacher that she attended '"Dr. Barnado's Homes, but don't tell anyone, we don't want anyone to know"' (25), and is very grateful of how 'good' (25) her tutor is in response. Nora comments within her autobiography how people should be kind to those less fortunate, but 'never patronising' (17) and I believe she could have taken inspiration from her teachers for this ethos.
'Nora Isabel Adnams', 'MY MEMOIRS OF DR. BARNARDO'S HOME, BARKINGSIDE, ESSEX', , University of Brunel Library, Special Collection: 2:859
Maclean, Mavis. Making Law for Families. London: Hart Publishing. 2000.
The girls than live in Dr Barnardos Home at Barkingside, London By Anonymous – – Accessed: 2nd October 2014