Eleanor Hutchinson (b.1915): An Introduction
"The near afar-off seems, the distant nigh, the now a dream, the past reality" – Eleanor Hutchinson 'The Bells of St. Mary'
Born on Woodchester Street, Paddington in 1915, to a "gentle mother and (my) generous, though foolhardy father" (1), Eleanor Hutchinson's early childhood was typical of a young catholic girl growing up in a working class family. However, Eleanor's working life was set to come crashing down when her father's anti-establishment activities got him arrested, and her mother's frequently ill health reached a deathly low.
Hutchinson's childhood begins in two rooms on the first floor of a shared house on Harrow Road: "Such words as 'kitchen' and 'bedroom' did not enter our vocabulary" (12). Sleeping areas were provided in each room but neither room occupied the status of a bedroom. The obvious lack of space and privacy appeared to have no impact on the young Eleanor who remembers feeling that their family's abundance of love substituted their lack of materialistic things: "It is as though God, who deprived us of all material comforts, made up for it with such bonds of affection" (7). This feeling was soon to fade after the arrest of her father at the age of seven and the death of her mother later that year.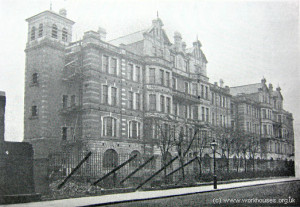 Hutchinson's remaining childhood was spent in Marylebone Workhouse run by a convent of nuns. Here Eleanor is faced with her first encounter with violence and ill treatment: "In all my time in Woodchester Street I had never witnessed the slightest brutality and, however poor we were, we were never vulgar" (69). Hutchinson is thrown into the world of institutional care which leaves her questioning her faith in religion and adults: "what sort of place was this? What sort of people were nuns? (69).
After leaving school at nineteen with no work experience, no parents, no money and "No social security in those days" (157) Hutchinson flees to France to become an au pair: "I thought naively, was better than the work house where all destitute people like me ended up" (157). However, Hutchinson becomes stranded in Paris with no money or transportation, when a "tall ladylike Englishwoman" (157) aids her plight. In a section of the memoir marked "Thanks to a Stranger" (157) Eleanor shows her appreciation to the women who it appears not only aids her financially, but restores her confidence in human kindness.
The autobiography is of interest as it does not shy away from the reality of Hutchinson's life without romanticising and paving over attention to the sections of violence. For example in times of turmoil, Hutchinson seeks to justify the oppressors' actions rather than holding them in contempt, "They just thrashed regardless. But then why shouldn't they? The government of the day was violent and it permeated throughout society so that I think the nuns really believed that they were doing the right thing" (72). Hutchinson's humility provides a humbling insight into her experiences. The coherence and fluidity of Hutchinson's writing reveals her to be a well educated and thoughtful writer who has experienced both good and bad aspects of growing up as a working class girl.
Works Cited
'Eleanor Hutchinson', in John Burnett, David Mayall and David Vincent eds The Autobiography of the Working Class: An Annotated, Critical Bibliography Brighton: Harvester, 1984, vol. 2, no. 429
Hutchinson, Eleanor, 'The Bells of St Mary', Burnett Archive of Working Class Autobiography. University of Brunel Library, Special Collection, 2:429
Images Cited – as they appear on the page
Marylebone Workhouse in Northumberland avenue. Accessed: 18/10/15 –