Agnes Cowper (1874-1963): Reading and Writing
Agnes Cowper came from a working class, seafaring, Liverpudlian family. On leaving school at the age of fourteen she became an assistant to her mother in the up keeping of the household and the raising of her siblings. Despite this Agnes goes on to write a highly literate autobiography and seems to have upheld a keen interest in literature and reading. Writing was the area of strength for Agnes in school and this is a skill that remained with Agnes throughout her life.
In her memoir, A Backward Glance on Merseyside, she writes of how she and her family gathered around upon the return of her brother Willie, to listen, 'spell bound as [their] hero related the perils, hardships and pleasures of his first voyage.' Before Willie had left to work at sea, he would read aloud to his siblings tales written by American poet Will Carlton and the English novelist George Sims. Agnes wrote:
I often think it was these readings which fostered in us a love of literature and poetry.
And so, perhaps it is not surprising that two of Agnes's brothers went on to become journalists and her younger sister became a teacher.
At the age of thirty two Agnes Cowper was appointed a position in the offices of the Lever Brother's factory of Port Sunlight. The factory produced the soap named as 'Sunlight Soap' but today their most famous and recognised brand is 'Persil'.
The Lever Brothers were much concerned about the welfare of their staff and so along with the comfortable accommodation they provided, they also developed a free library. In 1916, after ten years of working for the Lever Brothers, Agnes was given charge of the library and it was there that she worked for the next twenty two years of her life. She wrote:
It has been a source of contentment to have spent the best years of my life in a type of activity which has brought me into direct contact with a variety of people.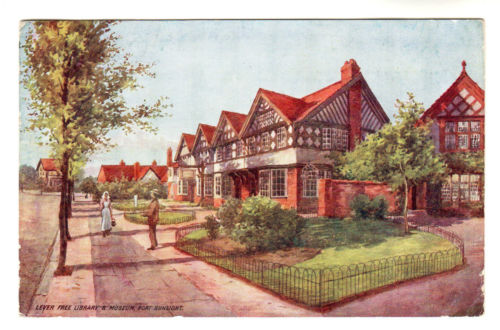 Agnes lived with her mother close to the library in Port Sunlight. Whilst working at the library Agnes had the chance to read books by old and new authors, an aspect of her job she revelled in. She wrote:
I would arrive home within a few minutes and we could settle down to a long evening, I to tackle a piece of sewing whilst mother read aloud.
Like when Agnes was a child, reading remained an activity that was done socially, with someone reading aloud and others listening. Agnes notes that her mother had been a keen reader throughout her life. When her mother was a child, she would sit on the porch of her home in Winchester with a book almost every day. One day, a footman was sent by a lady and he presented Agnes's mother with a parcel containing a copy of Peter Parley's Christmas Annual. A rare and kind treat which was treasured by the little girl on the porch of her home. Agnes was so pleased with her job as a librarian because it enabled her to share the delights of literature with her mother.
Resources and Links
Krishnamurthy, Aruna. 'Introduction'. The Working-Class Intellectual in Eighteenth- and Nineteenth-Century Britain. Ashgate: Fitchburg, 2009.