Thomas R. Flintoff (1904-1994): Life & Labour
'I also realised that it was very necessary to study, in order to make progress in my career' (Flintoff, p.32)
In his memoir 'Friday Thirteenth Of May' Thomas R. Flintoff goes into great detail in terms of the theme Life & Labour. At the tender age of 12 Thomas R Flintoff decided to sacrifice his education at the local grammar school in order to earn himself a half-timer job at the local cotton mill. Flintoff who lived in Preston followed the tradition of many youngsters who turned to work at the earliest opportunity. Preston at the time was an industrialised town well known for its cotton trade up until the First World War. Flintoff followed his mother's footsteps by working in the local cotton mill. By the age of fourteen he entered full-time employment working unsociable hours from six o'clock in the morning until 5:30pm with half an hour for breakfast, one hour for dinner.
Despite his academic credentials, I believe the decision of Thomas to seek employment was down to the financial struggle caused by the loss of his father. Within the late nineteenth and early twentieth century work dominated the lives of the labouring classes and many families could only earn enough money to live off. With no mention of any brothers or sisters it was purely down to Flintoff to help contribute to the household income in order to the pay the bills.
'With the war still in Progress, by May 1918 there was a shortage of male labour, but because I was very efficient, a demand for increased pay was readily agreed.' (Flintoff, p.17)
Flintoff was very cautious with his earning and he describes how he invested some of his wages into 'war saving certificates'. This involved buying certificates from a tank situated on Preston market and if you invested into some certificates and a disc was drawn out with your number on you had the chance to win more certificates. Flintoff reminisces how he 'once got one of the numbers and so increased the number of my certificates.' (Flintoff, p.17) This was Flintoff s first introduction to the National Savings Movement which later played a huge role in society during and after the Second World War.
'Working full time in a cotton mill at the age of 14 was very tiring, and having to get up by five-o-clock in the mornings meant that I went to bed by nine-o-clock each night, but as there were no wireless or television, after reading for a few hours you were ready to attire' (Flintoff, p.17)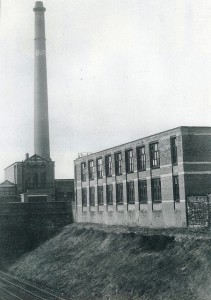 Labour was a priority for Flintoff and with the long hours spent at work left little time for socialising and leisure. This sacrifice indicates how labour was central to his life, not only to help out his financially stricken mother but labour acted as a source of pride for Flintoff.
After 18 months spent at the cotton mill he swapped manual labour for a white collar office job in a local estate agent. He learnt of the vacancy due to a man being called up to the forces. In 1918 there was a significant shortage of male labour as many men were sent to fight in the war. This enabled Flintoff to gain employment relatively easily. At Charles Parker & Co his role was to collect the rent from large areas of property situated around the town. The hours were less than the cotton mill, which of course meant the wages were less starting at £10 per week and for his first weeks pay he received a golden half sovereign which he gave to his mother which he still had until the day he died.
With the war being over, men began to return home which meant returning to their former positions. Flintoff was 'advised by Mr Parker that my employment with him would cease, and I had better look for another job.' (Flintoff, p.24) Flintoff was very fortunate in terms of seeking employment at a time when work was difficult to find. His next job came after a distant relative informed him of a position that was to become available at Joseph Fosters & Sons Ltd who were an old established firm who specialised in the manufacture of Lancashire and Cornish boilers and tanks. He was employed to help assist the modernisation of the company's commercial system in order to attract more customers.
After the firm's success they expanded and bought a new production site over in Blackburn situated about 20 miles from Preston. This move led to some employees being transferred to the new base and this included Flintoff. This move brought him a promotion as publicity manager and he assisted and shared an office with William Minty a highly skilled engineer. This also meant he had to leave his family home in which he had lived since being born to a new house in Houghton. During this time he got married. Sharing an office with Mr Minty who smoked aggevated his eye-condition that he suffered from when he was younger. This meant Flintoff had to be referred to an eye specialist in Blackburn where he spent three weeks as an inpatient. After returning to work, four weeks later, his eyes became again became affected. After consulting a different specialist in Preston he was advised to quit the job.
'To leave a job, and find another In those days was something of a problem, cotton mills and engineering firms were closing down, and those which were working were short on time.' (Flintoff, p.34)
In the 1930's the total of unemployed across the country was 2,500,000 with most of them being men. So on his return to Preston and after some research Flintoff took a step into the unknown and gambled on the purchase of a sweet and tobacco business that he found for sale. Flintoff expanded the range of products and as well as sweets and tobacco he also sold a variety of herbs and brewed his own herb beer. The problem which faced Flintoff was that people did not have a lot of money.
'At that time it was no bed of roses having a business.' (Flintoff, p. 35)
Flintoff relied heavily upon the trade with children who would enter the shop with their pocket money of a half-penny wanting an ice-cream cornet or a drink of herb beer. Flintoff found it very difficult to make a livig, he states 'that it took many customers before you had taken sufficient money to pay your bills to say nothing a making a profit.' (Flintoff, p.35)
Work and labour is very central to the memoir. Flintoff clearly was a self-driven and motivated character who opted for work at such an early age in order to help his widowed mother. With the lack of father figure in his life, he sacrificed his leisure and education social identity in order to step into the masculine working-class role. Flintoff was fortunate at a later age to be able to continue his education in order to enhance his career.