Phyllis L. Buss (1902): Education & Schooling
"Grandma said it was food for the brain and I did wish to be clever." (p3)
Education is a prominent theme of Phyllis' memoir, as the main focus surrounds her childhood, schooling constantly playing an important role in her recollections of certain memories. Her learning takes place in various ways; from being taught in school, attending church and Sunday school, lessons from her family members, and continuing education in her adult life.
Formal schooling is mentioned a few times, however in contrast to how she portrays her childhood as a whole, she seems to only choose negative memories about her time at school. The first story she tells is playing truant from school with her older brother Cecil. 'Instead of attending school' they took their 'lunches and sat on a seat in the meadow to eat them' (p5), only to be caught by their Grandfather who coincidentally chose to take a morning walk past where they were! Phyllis describes how she 'will never forget mother's harassed look' (p5) as she escorted them back to the school, where her teacher made her 'stand in the corner of the schoolroom for some time', and Cecil 'faired a worse punishment' (p6), maybe that of the cane. From her evaluation of this incident, that 'it was the first and the last truant play (p6), it is obvious that she was scared of the penalty from her teacher, and that truancy was a serious issue.
In contrast, missing school because of commitments such as caring for family members  was clearly not frowned upon as truancy, as Phyllis took up this duty for the care of her mother. When she was approximately ten or eleven years old, she states that she was 'doing well in school, in spite of the frequent unattendences' due to helping her 'mother in her confinements' (p7). She does not go into detail about her mother's illness, the severity of it or why there was nobody else which meant that as a young girl she had to miss school days to do 'nappy washing, errands, household chores of every assortment' (p7). As schooling was mainly dependent on family economy, many working class children were forced to leave school during the late nineteenth century and the early twentieth century to support their family, girls for domestic work around the home, and boys to find paid labour; 'Adult males were ideally, and normally in practice, the main wage earners; their wives, particularly once children started to be born, rarely worked for wages on a regular basis outside the home; children found waged work as soon as they were able, or as soon as the law allowed, and turned over most of their earnings to their mothers for family use'[1]. Phyllis states how she stayed at home to carry out 'all the jobs that [her] brothers cold not do' (p7), her family making her withdraw from education frequently to put domesticity first. Gender consciousness is evident here, as Phyllis is aware that she is required to do it being the only female child of the family, the boys being the first choice in an undisturbed education over her. In another autobiography, John Burnett notes how a young boys 'elder sisters had had to leave school at thirteen for domestic service…as in many cases the boy took educational preference over girls'[2]
Although this does seem like a negative occurrence, looking back from our modern day, Phyllis does express that leaving school at an early age was some kind of privilege and that it was desirable to leave education to move on to the working world. She writes how 'New Law was made whereby a child who could pass a Special Examination could leave school at the age of thirteen', that her Headmistress had chosen her and a classmate to undergo the test because they 'had both been in the top class for two years' and she was 'confident of [their] passing, although she would be sorry to lose [them]' (p7). Phyllis seems disheartened that she did not pass, as she fainted during the exam, however her friend succeeded and 'trained to become a nurse and after, a Matron' (p8). Despite what Phyllis writes about, researching into the specific law which she means around the time of 1913-1915, there does not seem to be a particular law surrounding the idea of children leaving school to work at the age of thirteen, it seems more that they simply just left due to family economic pressures. This recollection could have been a misinterpretation by Phyllis, or an embellishment maybe to make her seem more intelligent to her audience of her grandchildren that she got chosen for such an exam, or that her family would not have forced her but she opted to partake.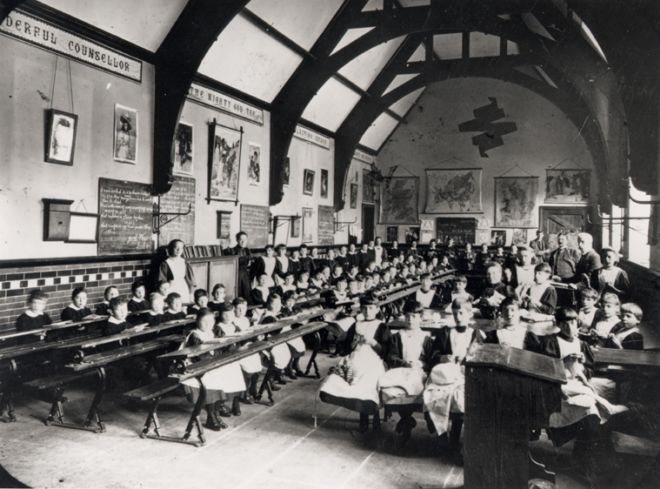 (Example of working class schoolroom, 1902)
Sunday school was an extra form of education that Phyllis and her brothers attended at St Giles Church, Northampton. She recalls her experience of this as a more positive set of memories to that of formal education at school, her 'best day of the week' (p3) during her childhood days. She remarks how 'like well brought up children' they attended the Sunday school, how she 'always felt classy' in her 'best Sunday dress and squeaky patent shoes', and how she 'loved the crocodile walk' from the school room to the church one Sunday per month. The purpose 'initially of Sunday schools was on the education and instruction of the poor…special worship material was produced for them', and by numbers increased rapidly 'and by 1900 there were at least five million children attending them in Britain'[3]. This religious education taught such subjects as duty and morality, about creation and warning of sins. They were given prayers, hymns and extracts from the Bible to read, and this is reflected in the memoir as Phyllis remembers and writes down a prayer from her teachings at St Giles.
 (St Giles Church/Sunday School, Northampton)
Further education after she had left formal education seems to be an aspect for Phyllis that is important within her life, as she continuously seems to strive to better herself even when she is no longer a child. Moving on from school, she states 'what could be better than earning and learning at the same time' (p8), and so enrolls on evening classes with the Post Office, as she had a job delivering Telegrams that were sent from soldiers during the First World War. The evening classes were held at Campbell School, Northampton, where she 'learnt morse code, etc and all about Post Office work in general', she even 'sat the examination and passed, only to discover that one had to be five ft. tall' to be on the staff team.'With nearly a quarter of the workforce enlisted with the army, thousands of temporary workers were drafted in by the Post Office including 35,000 women in the first two years of the war'[4], they offered lessons in Morse Code as an extra lesson so that they could aquire skills to assist with war efforts, it is unfortunate that Phyllis did not qualify for this, strangely because of a height restriction.
(Morse Code machine from early 20th century)
I believe that the values and morals surrounding her family drove Phyllis to want to continue further in education, as it seems that her father being a member of the Fire Brigade and her Grandmother's wise words shaped her as a person that strives to be the best. However, as this is a memoir that is written in retrospective and the audience seems to be that of her young family members, it could be said that some of the memories may have been enhanced to make her experiences seem more interesting and morally beneficial for her grandchildren.
————————————————
References
[1] – http://www.faqs.org/childhood/Wh-Z-and-other-topics/Work-and-Poverty.html
[2] – Burnett, John ed. Destiny Obscure: Autobiographies of Childhood, Education, and Family from the 1820s to the 1920s, London:  Alan Lane, 1982, 161.
[3] Bradshaw, Paul F, The New SCM Dictionary of Litugry and Worship, London: SCM Press, 2002, 107.
[4] http://www.postalheritage.org.uk/page/history
Images
Image 1, Working class schoolroom – http://www.mylearning.org/victorian-school-and-work-in-preston/images/1-3215/
Image 2, St Giles Church -http://freepages.genealogy.rootsweb.ancestry.com/~derekboddington/album_5/slides/northamptonstgiles_3.html
Image 3, Morse Code Machine – http://www.nzmuseums.co.nz/account/3021/object/34697/Key_Morse_code