Thomas Raymont (1864-1949): Education and Schooling
'My earliest school, attended as soon as I could toddle down the street, was a dame school, the dame being, as I clearly recall her, a capable and gentle lady'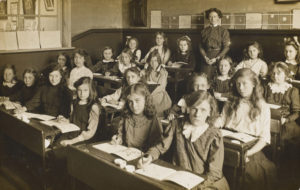 Throughout reading Thomas' memoirs, it becomes apparent that education has influenced him ever since he 'toddled down the street' (pp.3) to his first school. This may have been influenced by his father who he describes as 'the rough-and-ready sort' as Thomas tells us his father 'insisted upon our regular attendance at chapel and Sunday school on Sundays.' (pp.2) John Burnett writes of Dame Schools that 'The writings of autobiographers who attended such schools indicate a wide variety of experience, with the majority more favourable than critical.' (Burnett, 1982, pp.140) The evidence in these memoir suggests that working-class auto-biographers opposed the views of educational reformers of the time that the 'Dame Schools' were failing.
For many young children, their education would not last long enough to see them age to double-digits, as in the case of Charles Shaw, a boy who at the age of eight started work, as he describes his jealousy at witnessing another boy reading stating 'I felt a sudden, strange sense of wretchedness. There was a blighting consciousness that my lot was harsher than his and that of others. . . I went back to my mould-running and hot stove with my first anguish in my heart.' (Burnett, 1982, pp.130) Here we can see that for boys such as Charles, they didn't understand why they had to go out and work strenuous and dangerous jobs while at the same time other boys of the same age were offered the opportunity to learn, staying in the education system.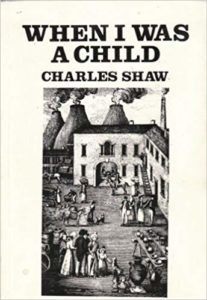 Thomas was one of the fortunate few who got to see through his education, stating that by the age of twelve he had 'completed the six standards of the Revised Code. All my contemporaries, except myself and one other, left school and we two remained as 'ex-6th' scholars, working under the eye of the headmaster. We were provided books on mensuration, algebra and euclid, which we worked steadily through.' (pp.5) Thomas also reveals that his he was drawn in by the idea of continuing his education not for his love of teaching but for his love of study and that 'Teaching gave me opportunities for study which I should not have had if I started to learn a trade, the only other alternative for me.' (pp.9) For Thomas the choice was simple, become a pupil-teacher at the age of which he was still a child himself, or be sent to work a manual job at such a young age which would have been detrimental to both his health and his employment opportunities.
In his memoir Thomas is not always complimentary about the education system and remarks that when performing the role of a pupil teacher the strict regulations meant that pupils learning suffered as a consequence and tells that 'The word went forth that Geography should be taught by means of reading books. The headmaster saw no objection, but on the contrary enjoined me to abide strictly by the regulation, which I did.' (pp.9) Thomas goes on to tell his reader that he did all he could with the use of wall-maps and the textbooks provided, but that the words in those books 'lay outside the vocabularies of my boys' (pp.9)
Overall, there is a sense that Thomas is grateful and feels fortunate to have had the opportunity to complete a full education that so many children such as Charles Shaw were not afforded. However on witnessing the difficulties that faced teachers as a result of the failure of the establishment, Thomas would go on to write books on education that would become indispensable in the education system of his time, and for years to come, as I will tell more of in my next blog post.
Bibliography
Raymont, Thomas. 'Memories of an Octogenarian 1864-1949', Burnett Archive of Working Class Autobiographies, University of Brunel Library, Special Collection, 1:571, available at: http://www.brunel.ac.uk/__data/assets/pdf_file /0003/139278/BurnettArchive.pdf
Burnett, John ed. Destiny Obscure: Autobiographies of Childhood, Education, and Family from the 1820s to the 1920s London: Alan Lane, 1982. 'When I was a child by Charles Shaw', in Amazon <https://amazon.co.uk// > [accessed 15 April 2019] 'Victorian School Life', in St Michaels https://stmichaelsprimary.bournemouth.ac.uk/ [accessed 15 April 2019]