R.W. Morris b.1895: Education and Schooling.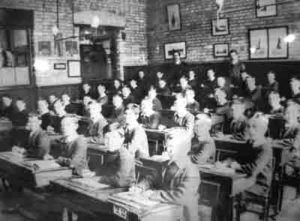 Richard W Morris was a miner's son from the Pelton Fell area of County Durham. His references to school are relatively few and far between. He reveals that in a morning before school he would go to the mill at Urpeth Bottoms to 'collect a load of flour' (6). Presumably this would be for his mother's extensive baking, having such a large family (see my post on Home and Family). As the eldest of ten children Richard had chores outside of the family home to complete, before his school day even began, and very likely after school too. His recollections regarding school seem vague and scarce compared to the enjoyment and pleasure he experienced wandering the local countryside, which set his imagination alight.
Richard writes, 'I was not a very good scholar anyway, and that being so, I was nearly always in the front row right under the teacher's nose (and hand)' (8). He says that he enjoyed history, geography and drawing, 'but never did get the hang of English Grammar or Arithmetic or any other subjects then taught, although I don't think I was a real dunce' (8). Richard adds that he believes the reason for this was a lack of confidence in asking questions, or asking the teacher for help. He recalls that the teacher in night school was 'only too pleased to help' (8), compared to the teacher from his childhood. Joanna Bourke suggests that, 'disaffection with 'learning' arose out of the oppressive class nature of school' (1994, 121). She goes on to say that much of the problem for working-class children was having to work alongside their schooling (1994, 122). This could be paid or unpaid work, and often within the domestic framework. Richard states that there was a library in the village, provided by the colliery institute, which could have been used for self development, but he does not say whether he put this to any use.
Richard left school at Christmas, just before his 14th birthday on 1st February 1909. He was not able to go 'down the pit' (11) straightaway but had to find paid work as soon as possible. His mother found him his first job in a tailor's shop in Chester-Le-Street. As soon as Richard was able he left this job to go into the mines.
After spending time in America, after the Great War, Richard took on a night school course ran by the W.E.A (Workers' Educational Association). He says that the W.E.A had been running courses successfully at the Pelton Fell mines for four years before they closed. He commends a Mr George Carr, headmaster at Houghton-le-Spring High School, for teaching them, and 'his personal help in our hour of need after the pit did stop' (120). Lawrence Goldman says that there were two distinct models of adult education. The first was that of the W.E.A, designed to work alongside universities to 'provide access to liberal higher learning for working people hitherto denied the opportunity for sustained academic work' (2000, 281-282). The other model rejected the establishment and 'promoted an independent education for workers' (2000, 281-282). (See Albert Mansbridge (1876-1952) who was a founder of the W.E.A.).
It was George Carr who pushed Richard into applying for a scholarship at Ruskin College, Oxford: 'At first I absolutely refused to consider the proposition, but he persisted, and told me I had nothing whatever to lose, and that the experience would be well worth while whatever happened afterwards' (120). Ruskin College was an example of a working class, trade union sponsored institution. Richard won his place after submitting an essay on 'The Ethics of Industry' (120). He seems to have felt a little out of his depth when first arriving at college, realising the two year course on politics, philosophy and economics was a good deal more involved than what he had undertaken on his W.E.A course. Richard admits being 'ill prepared' (123) and struggling on the course. However, he writes, 'I was extremely fortunate in meeting my future wife there. We used to run a Saturday night dance in the Buxton Hall' (123-4).
Richard concludes his recollections of adult learning with, 'It was, I am glad to say an experience nothing, and nobody can take away from me, but I often wonder what good it did me, if any' (126). His disappointment appears to be with education, acknowledging his own scholarly limitations. However, it could be that Richard had a negative view of his education because, despite his learning, the job market he returned to was still in dire condition. The economic climate after the war and the Great Depression in America had taken their toll on Britain. Richard could not find work for some time after his course, and had to return to Durham and to the dole. Luckily for him, his future wife, plead his case to the Labour Exchange in Oxford and he was given a job on the 'New Northern By-Pass Development' (128). The negative experience of education in his youth and the lack of confidence he felt, may have been a contributing factor in his adult academic efforts too. This may demonstrate how negative experiences in childhood never fully leave us.
Bibliography.
August, Andrew. The British Working Class, 1832-1940. Harlow: Pearson Education, 2007.
Bourke, Joanna. Working-Class Cultures in Britain 1890-1960: Gender, Class and Ethnicity. London: Routledge, 1994.
Goldman, Lawrence. 'Intellectuals and the English Working Class 1870-1945: The Case of Adult Education'. History of Education, 29.4, 2000: 281-300.
MORRIS, R. W., 'Autobiography of R. W. Morris', TS, c.350pp. (c.140,000 words). Extracts published as 'A Boy goes down the pit', Bulletin of the Durham County Local History Society, No. 20, Oct 1977, pp. 4-12 (edited by G. Patterson). BruneI University Library.
'R.W. Morris' in John Burnett, David Vincent and David Mayall (eds). The Autobiography of the Working Class: An Annotated, Critical Bibliography 1790-1945, 3 vols. (Brighton: Harvester, 1984, 1987, 1989): 1:520.
Savage, Mike. Social Class in the 21st Century. Milton Keynes: Pelican, 2015.
Featured Image.
"School is Out" by Elizabeth Adela Stanhope Forbes (1859–1912)
Images.
Tiered Classroom – 1900s.org
WEA Banner – Durham Bannermakers.