Frank George Marling (1863-1954): Fun and Festivities – Part Two
Club Day! who can describe what the annual re occurrence of that day meant to young and old at Berkeley! The first Wednesday in May was devoted to the "March Out" of the Clubs. There were several "Slate Clubs" located at different public houses in the town, the most important being those at the "Berkeley Arms", the "White Hart" (in High Street) and the "Mariners Arms" on the green at the bottom of Salter Street (p.20).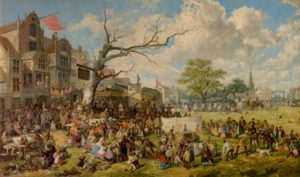 The popularity of clubs and societies emerged during the mid-nineteenth century (Beaven, p.16). By the middle of the 1870s, "clubs were established by working men with no patronage" (Beaven, p.19). The "Clubs" that Frank discusses in his recollections all appear to fit Beaven's description, as they were situated in the local public houses – a popular gathering space for the working-class man. These public houses continue to be well-established in today's society. However, they are now usually well-known as local "pubs" (Johnson, n.d).
After this, Frank explains that the club members and "bandsmen" all went back to their "respective headquarters" for dinner (p.21). Frank clearly enjoyed witnessing these days, as his writing is filled with excitement as he reminisces about them. He also devotes a good amount of his memoirs to discussing the Club Days in detail.
Headed by a brass band and a beautiful silk banner, each club marched round the town, to the houses of the gentry and to certain farm houses not too far out […] at the calling places they were regaled with cider and beer in recognition of which the band played lively music and the procussionists gave hearty cheers. It can be imagined that by the time the men got back to the town some of them found it difficult to keep step! (p.21).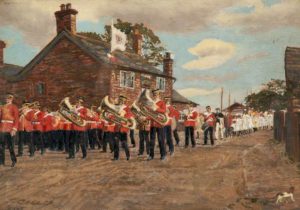 Reading Frank's descriptions of the "Club Days", we can see how exciting and fun they must have been for everyone involved. Watching a parade of clubs marching down the streets with banners in the air and music playing, would have been great fun for any age to watch. The Club Days brought people together and gave people a way to spend their much needed leisure time. Stalls were placed outside the day before in order to provide games and sweet treats, including "Gingerbread stalls", for people to enjoy during the annual festivity (p.22).
The first excitement of the day was see which flag came out (that is was displayed on a pole from an upper window) first – the "Berkeley Arms", or "White Hart". Usually the former had it […] The next was the arrival of the bands, up which street would the first come? Which club's? […] Sometimes a band would arrive quietly and from an (to us youngsters) unexpected direction. Great was the disappointment! (pp.24-5).
Frank's brother Allan ran off one day during the event. Frank and his parents could not find him! However, they later discovered that Allan had joined in with the clubs as they marched around the town: "[…] there was Allan bravely marching along!" (pp.26-7). After this story, Frank mentions that his father was in fact a carrier of the "prized" staff during many Club Day marches beforehand! (pp.27-8). This is an example of how Frank demonstrates his admiration for his Father, as discussed in part one of my Home and Family post.
Club Days were certainly the most fun and exciting days to Frank growing up, and to many that lived in Gloucester: As Darkness came on the standings were lighted up with flaring lamps – what with the mysterious lights and shadows, the shouts of the Vendors, the "pop", "pop" of the guns and the laughter and gaiety of the crowd an impression was left which held good until the next year's Club Day […] (p.29). Club Days were also very popular all over the country, with some places still celebrating it today – including the annual Club Day held in Leek!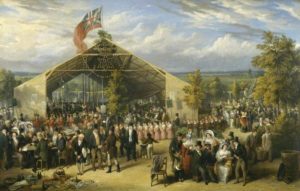 Another event that Frank writes about is a "Forester's Fete", held in Berkeley (p.33). An owner of a "bake house", named Jimmy Oliver, celebrated the "galarday" by placing a large bun over his shop doorway (p.33). This was welcome to anyone who wanted to eat it away! A young "farm labourer" managed to get it down, but unfortunately with it came a bag of flour! "This passed for a good joke in those days […] but I am not sure how it would be tolerated nowadays" (p.33).
Frank does not include any significant details about Christmas, Easter, or birthdays. He was very dedicated to the church, so religious festivities would have been celebrated. Frank may have simply decided to dedicate his memoirs to other aspects of his childhood and youth: including the memorable Club Days, and the seasonal fun and games such as "Hobbley-Onker" (p.113, mentioned in part one of this post!). Nevertheless, other authors have decided to dedicate parts of their memoirs to these festive holidays. For example, Charles Whiten Sanderson discusses both Easter and Christmas, as well as the many school holidays including "Ash Wednesday" and "Shrove Tuesday" (Tilstone, 2018).
Read other working-class stories on the Writing Lives 'Fun and Festivities' page. The next post about Frank's memoirs is on illness, disease and vaccinations!
Follow me on Twitter: @lk_wlives
Bibliography
Burnett, J. (Ed.). Destiny Obscure: Autobiographies of Childhood, Education and Family from the 1820's to the 1920's. London: Routledge, 1994.
Beaven, B. Leisure, Citizenship and Working-Class Men in Britain, 1850-1945. Manchester: Manchester UP, 2005.
'Frank George Marling' in Burnett, John, David Vincent, David Mayall (eds) The Autobiography of the Working Class: An Annotated, Critical Bibliography 1790-1945. 3 vols. (Brighton: Harvester, 1984, 1987, 1989)
Horn, P. Pleasures and Pastimes in Victorian Britain. Gloucestershire: Sutton Publishing, 1999.
Johnson, B. (n.d). 'The Great British Pub'. Historic UK. [online]. Available at: https://www.historic-uk.com/CultureUK/The-Great-British-Pub/ (Accessed: 19/04/18).
Marling, Frank George. 'Reminiscences'. Burnett Archive of Working Class Autobiographies. Brunel University Library. Special Collection, 1:492.
O'Gorman, F. (Ed.) The Cambridge Companion to Victorian Culture. Cambridge: Cambridge UP, 2010.
Tilstone, H. (2018). Charles Whiten Sanderson (1906-1990): Fun and Festivities. 17 April. [Blog]. Available at: http://www.writinglives.org/fun/charles-whiten-sanderson-1906-1990-fun-and-festivities (Accessed: 19/04/18).
The Team and Parish of Leek and Meerbrook. (n.d). 'Leek Club Day'. [online]. Available at: http://leekparish.org.uk/whats-on/event/leek-club-day/ (Accessed: 20/04/18).
Images Used