Agnes Cowper (1874-1963): Habits, Culture and Belief
Agnes Cowper spent a large part of her childhood amongst the community of seafaring families like her own in Toxteth Park, Liverpool. In her autobiography, A Backward Glance on Merseyside, she provides a sense that family was the culture at the heart of the community. Despite not knowing a soul in Liverpool when Agnes's parents first moved there, they fast became friends with their landlord, a Dutch mastership repairer, his three daughters and their next door neighbours, Mr and Mrs Robertson. Like Agnes's father, Mr Robertson was also a seaman but his position was that of Captain on the s.s. Arabic.
However, the culture and reputation of Liverpool as a whole was not entirely spotless. Agnes notes that the city was often referred to as 'Dirty Liverpool' by passing visitors. There is also mention of the trouble caused by the large number of public houses and drink shops in wide availability throughout the city. Agnes recalls that on her journey to and from school, she would often see police officers leading men to the nearest bridewell or struggling with a screaming drunk woman unable to stand or walk.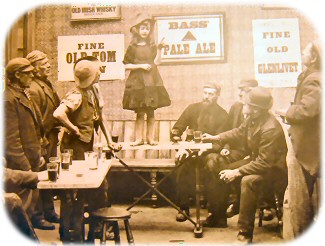 Agnes also explains that children would suffer as a result of the 'drink and degradation' provided through the city's public houses. She wrote:
It was a raw winter night, and sleet was falling. As we passed the corner of Dexter Street and St. James' Place we saw a number of little children huddled together on the step of a public house. They were barefooted and had scarcely enough clothing to cover their nakedness and crying so bitterly that they must have been suffering intensely from cold and hunger… it was a very common sight
Many children would turn to the street of Liverpool in an attempt to earn some money, often match-selling or news vending.Young girls often made a living from scrubbing the steps of houses in the suburbs or from carrying bundles of firewood from door to door.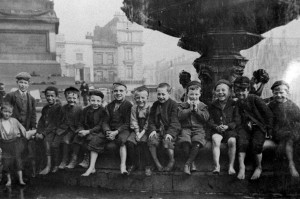 Agnes also provides an insight into the lives of those with wealth and position in the city. She remembers in those families aspiring to gentility the girls were often being taught to play the piano in their parlours and so the streets echoed with the murmur of music.
During the winter nights the Liverpool thoroughfares would be brightened once a week by the well-lit carriages of the shipping magnates and merchants. They would attend the Philharmonic Hall with their wives and daughters with 'grand and stately procession'. She wrote:
The bright interiors of the carriage giving to the onlookers glimpses of fair occupants in evening dress and opera cloak… I would often steal out to watch these evening processions and lose myself in admiration of these beautiful women in their lovely gowns.
Agnes and her family often spent recreational time reading together, an aspect of their lives explored further in the Reading and Writing blog. During the 1880s when Agnes was still a girl, she and her brothers would go into the city and spend time looking in the windows of Lewis's Department store. One year the store opened their first Christmas Grotto which Agnes and her brothers were lucky enough to visit. Upon leaving the 'Aladdin's Cave' the children each received a gift and Agnes cherished hers for years after.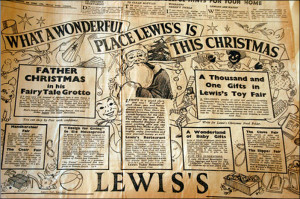 Each year the family would take a day trip to New Brighton with two or three neighbouring families. For two pence each they would catch the bus to the Pier Head where they would catch the ferry across the Mersey river and embracing the view of the liners and freighters arriving and departing from the docks.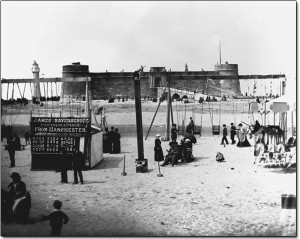 Once at New Brighton they would play in the waters of the Mersey and each a lunch of bread pudding, home-made scones and ham sandwiches. Afterwards the children would ride the donkeys, build sandcastles and would later enjoy a tea of bread, butter, shrimps and cakes. Even when Agnes is a grown woman, she enjoyed holidays to Devon with her mother and her sister Daisy.
Agnes's family went to the chapel on Geraint Street every Sunday as both her mother and father came from generations of 'strict adherents to the Anglican Church.' The church did not only provide Sunday mass but allowed Agnes to become a Sunday-school scholar. She wrote:
During my youth all my interests were centred in the work and in the friends I made at this little chapel.
The Sunday school provide two annual events that Agnes and the community would look forward to. One was the anniversary of the Sunday school and the other being an excursion. For the anniversary the children would attend tea-parties and concerts which saw many little girls arrive dressed to impress for their moment on stage.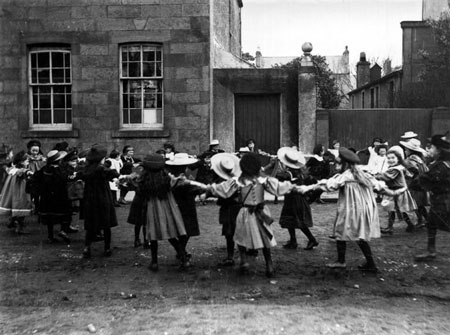 Of her childhood Agnes portrays her fondness of her family and the enjoyment of their time together. Although she was slightly more burdened than her younger brothers and sister in the sense she was responsible for helping to raise them she seems no less grateful for her childhood. Agnes wrote:
 Many young people of today have received the impression that life, for those of my childhood days, was dull and rather miserable. I deny it.
Resources and Links