Joseph Terry (1816-1889): Habits, Culture and Beliefs
It grew further from a habit and into the binds of an addiction…
The class division between the working-class and the upper-class in the early 19th century was vast and only increasing through the rise of urbanisation. Different cultures boasted different recreations and these pastimes were a reflection of this division. Pierre Bourdieu calls leisure a form of 'social distinction' as a person's taste becomes scrutinised by society and can instantaneously reveal their social stature.
Despite growing up in a working-class family, Joseph's habits did not reflect the typical working class pleasures as they revolved around his desire to better himself and a refusal to be confined and defined by his background. Instead of wasting time gambling on cockfights or drinking to excess, we would find Joseph playing music or writing poetry. Involving himself in activities which broaden his mind and reflect his vigilant persona.
He was fond of drinking and sporting and never saved any money'(Terry 17)
A person is predisposed to certain habits and activities depending on their surroundings, and these habits were often used as a distraction from a dissatisfying reality; especially for the working-class. Throughout Joseph Terry's memoir, he repeatedly mentions his comrades drinking and gambling recreationally but, using a habit to
escape from a laborious life could give rise to an addiction. Joseph's Uncle Benjamin was an example of this. In 'Social Value of Drug Addicts: Uses of the Useless' Merrill Singer and J Bryan Page imply of a relationship between pauperisation and 'recidivistic heavy drinking' (Merrill and Page 77). Uncle Ben's own demanding life may have taken a great toll on him and he turned to drink as a form of escapism from a taxing reality.
When sober, Uncle Ben was 'one of the hardest workers' (Terry 17) but this inclination towards the bottle deterred his ability to achieve and caused this assiduous attitude to waver. No few days would pass without the indulgence surfacing as it grew further from a habit and into the binds of an addiction. His necessity for drink is made apparent through Joseph's description of him having an 'appetite for drinking' (Terry 17). Aligning this habit with the humane need to eat emphasises the extent of his dependency on that substance and, when combined with a 'powerful'  habit of gambling, it had dire consequences (Terry 17).
Unlike Joseph, whose family come before all else, Uncle Ben placed his addictive habits before the well-being of his own family.  One time, he was fortunate enough to attain a large amount of money from his wife's family but sadly, it did not make it home as he 'lost, pawned and spent everything' (Terry 15). His family were struggling to survive and this unremitting addiction cost them a lifeline that would have made a huge difference to their arduous lives. To make matters worse, when this incident became public knowledge they were immediately cut off from his wife's extended family, thus eliminating any hope of future generosity.
He spent a great deal of his time drinking, cock-fighting, which was then much in vogue, or gambling. (Terry 15)
It would have been easy for Joseph to follow a similar path as he has grown surrounded by a culture which is prone to drinking habits. But at the same time, it means he has witnessed first-hand the damaging consequences. Contrary to his uncle, Joseph did not gamble or drink to an excess as he didn't want to deviate from the course of achieving a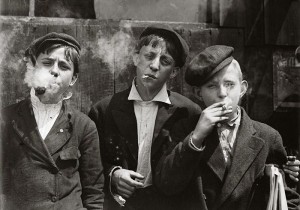 comfortable life for his family. Temptations were easily avoidable as they were simply not worth the risk. So, when others were 'drinking, cock-fighting… or gambling' (Terry 15) Joseph would be participating in hobbies that could potentially accelerate his goals instead of inhibiting them. This attitude could have been perpetuated from what he has experienced growing up, watching as his Uncle became consumed by his habit and dragged his family down alongside him.
Believe it or not, Joseph did try his hand at smoking (If trying it once and falling ill after doing so counts). His grandfather was a 'great smoker' (Terry 8) and he deviously permitted Joseph a taste, much to the abhorrence of his grandmother who gave her husband 'a great scolding' (Terry 8). However, since then, Joseph does not mention picking the habit back up so that bad experience may have deterred him away and instead make the decision to stick to the books  (books win over cigs every time).
Bibliography
Andy Croll, 'Popular Leisure and Sport' in Chris Williams (ed) A Companion to Nineteenth-Century Britain (Oxford: Blackwell, 1984), pp. 396-411.
Bourdieu, Pierre. Distinction. A Social Critique of the Judgment of Taste. Harvard University Press, 1984
Singer, Merrill. And Page, Bryan K. The Social Value of Drug Addicts. Left Coast Press, 2013
Terry, Joseph. 'Recollections of My Life', Burnett Archive of Working Class Autobiographies, University of Brunel Library, Special Collection
Image Reference: A man who is clearly not fond of losing. (Accessed 25/01/2016)
Image Reference: Social drinking in a pub. (Accessed 25/01/2016)
Image Reference: Child labourers smoking. (Accessed 25/01/2016)