Minnie Frisby (b.1877): Habits, Culture and Belief
Music was an important pastime for Minnie. She remembers her father teaching her to play musical instruments and dance with her when she was a child.
On August 9th 1943, Minnie hears a song that reminds her of her forthcoming Golden Wedding Anniversary and her past:
50 Years Ago
This morning at breakfast I said to my wife,
But one Golden Wedding we have in this life,
We'll go to church with our cheeks all aglow
As we used to those two score and ten years ago,
So it is, so it is, said my dear old wife Jane,
Lets have our old wedding day over again,
And go to church with our cheeks all aglow
As we used to those two score and ten years ago.
She recollects how a friend wanted the words to the song but it was no longer available. However, Minnie was able to write down the song and pass it on. She also ponders if, 'someone would sing it when I am gone', evidently the song made an impact on Minnie showing her musical connection and her marriage. (Frisby, II:9)
Along with music Minnie was also interested in the theatre, 'I remember the various theatrical companies and the plays, also Dysons Gypsy Choir and Christie Minstrels.' (Frisby, II:9) Christie Minstrels was a blackface group began in 1843; they travelled internationally performing a three-act show. This highlights Minnie's interest in the development of theatre during her lifetime.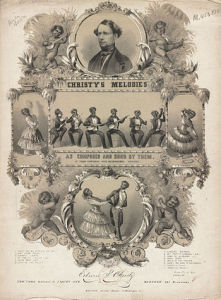 Furthermore, Minnie remembers how she always knew the Music Hall songs. Her father was a singer in the Cattle Market Tavern where he would regularly sing. Therefore, Minnie's love for music stemmed from her father and his enjoyment of entertaining. Minnie highlights that although music was important to her growing up it lost its significance, 'I'm sure we sang more in the old days than we do today'. (Frisby, II:9) This is due to the modernisation and development of popular culture in the twentieth century.
In the nineteenth century working class movements, such as Chartism, were set up for people to be aware of politics or for recreational purposes. Although Minnie does not mention belonging to groups she does remember her involvement with Sunday School throughout her life.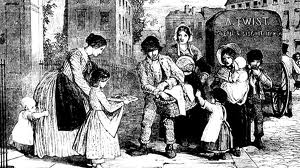 The most popular group to be a member of was a Church. For Minnie Easter and Christmas were big celebrations. Where Christmas was celebrated with homemade food and quality time, Easter was marked with 'some new clothes… if we were going to get any at all.' (Frisby, I:13) On Good Friday she remembers her mother buying hot cross buns from the street sellers and there was Sunday School Treats whereby children would celebrate with a party and picnics.
However, Minnie does jest at the 'service of song' they would have to endure,
'it was usually some pathetic story read by some prominent person and we children would sing the solos and hymns in between.' (Frisby, I:13)
Maybe it was during her childhood that she seemingly lost her faith because it is not until 1900 when she marries John Samuel Frisby that she revives her religiosity. Minnie remembers how she was, 'baptised and received into membership (at New Road) when I was 21'. (Frisby, I:21)
Although Minnie's family are described as, 'pretty religious' and involved in Spiritualism it is interesting that she is not baptised until late. (Frisby, I:10) Nevertheless, it is through her courtship with Johnny that she returns to religion. Minnie married Johnny when she was 23 years old,
'[Johnny's] people were very religious and highly respected, and he was an only son, the prospects looked good.' (Frisby, I:21)
Evidently, Minnie tried to better her life prosects by marrying into a respectable family such as the Frisby's.
A favourite pastime for Minnie was the circus. She remembers the excitement the circus would bring her from childhood to adulthood,
'The circus reminds me of another exciting event in our lives, sometimes there would be a Circus or Wild Beast show come to Bromsgrove'. (Frisby, I:12)
The family would anticipate the arrival of the circus and take a half day holiday to attend the shows courtesy of their father. In her book Brenda Assael recognises that Victorian circuses aimed to, 'inspire and encourage a desire for excess and excitement' for their audiences. (Assael, 9) This idea is developed by Minnie as the excitement of the circus was not only a childhood memory but continued to be an adult spectacle in her life.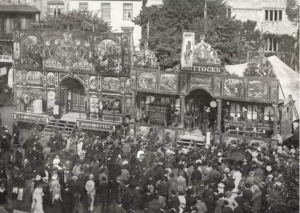 Minnie was part of a working class rural community with lots of outdoor activity. From attending fairs, to going on 'Club Walks' involving sweets, beer, 'races and sports for the youngsters' outdoors was where Minnie enjoyed life most. (Frisby, I:12) Memories gives a strong sense of belonging to a community and celebrating a united front. The Bromsgrove community built their own culture that was important to individuals.
References:
Assael, Brenda, 'The Circus and Victorian Society', (Virginia: Virginia University Press, 2005)
Frisby, Minnie. 'Memories', Burnett Archive of Working Class Autobiography, University of Brunel Library, Special Collection, 1:250
Image References:
Christy Minstrels 1844 (Accessed: 15/11/14)
Hot Cross Bun Seller (Accessed: 15/11/14)
Marionette Show (Accessed: 15/11/14)