Thomas Jordan (B.1892): Habits, Culture and Belief
'Usworth colliery was a booming place… Cinemas and theatres appeared in New Washington and they filled to capacity.' (Jordan, 6)
Working-class people of the early 19th century were gradually introduced to new forms of cultures and beliefs pushed by the higher classes in order to encourage a higher standard of living and a better all-round moral compass. Temperance movements and higher forms of entertainment were encouraged to replace all types of entertainment considered too low-brow and damaging to society, for example animal fighting, boxing, drinking alcohol in excess and maintaining an 'undesirable' lifestyle. By the early 20th century the working classes were beginning to develop their own culture which shaped their communities and their set of beliefs by which they lived.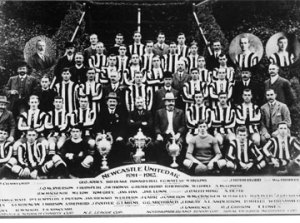 There was a strong sports culture which emerged through the working classes, most notably with the accessible sport of Football. Thomas remembers how the sport was an avenue of escape for most of the men in his community, yet he credits this culture for creating a certain breed of man which he was proud of associating himself with.
'…lads got their first introduction to football there which led some of them to first-class football. They came out of the mine after ten hours down there and then played a hard game of football, without flinching: a tough breed that knew no fear or weakness – yet law abiding and always ready to give assistance to anyone in need of help.' (Jordan, 3)
Thomas describes the change in law for shorter working days as a dramatic change in cultural habits in the area. He explains how the people of the mining community had more time to explore other fields of entertainment such as 'football, cricket, quoits, whippet racing, etcetera' (Jordan, 5), also explaining how the liberated working classes had been 'starved of any culture for a long time' (Jordan, 5) until they too got to enjoy trips to the theatre, to the sea side and into different forms of pastimes.
'The eight hour shift became law instead of ten hours- donating to us time for the pursuits under the blue skies' (Jordan, 5)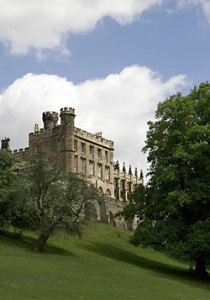 'we could sing, play games, swim I the unpolluted river Wear and watch the rowing boats rowing slowly up to Lambton Castle' (Jordan, 2)
During his early years, Thomas remembers that his mother and father always made sure their children never knew the hardship the family was facing with the realities of living in a colliery, for example the fact that his dad worked 'from nine years of age till seventy-two' (Jordan, 10) so they we're always well clothed and fed, yet he also expressed some feeling of resentment towards his predetermined fate:
'The goodness of my parents in bringing up the finer things was hardly the training needed for the rough and tumble of pit life' (Jordan, 7)
So for this reason, Thomas decided after the 1911 miners strike that he would join the army which 'beckoned me away from the restricted confinement of a coal mine' (Jordan, 7). He tells us later on in his memoir that he gave up drinking after his time in the army came to an end due to ill health, yet it shows us that the working-class never fully gave themselves up to the higher classes, but rather they adapted their advantages to create a better standard of living for themselves. Thomas, for example, turned to Christian Science when he thought his health conditions were killing him and he credits this for him still being alive at the time of the interview, age 84, in November 1876. Religion, therefore, is still playing a big part in the lives of the working class.
Thomas, Jordan. Untitled. Burnett Archive of Working Class Autobiography, University of Brunel Library, Special Collection, 1:405