Adeline Hodges (b.1899): Home & Family
'God bless me ma,
God bless me pa,
God bless me granny and grandpa, aunts, uncles, cousins, sisters and brothers,
God bless everybody in the wide world,
God make me a good little girl.'
A prayer Adeline and her sisters recited before bed.
Home and family are central to Adeline Hodges' memoir as she is a very family orientated author. Lots of the anecdotes that she tells in her text are situated in the home environment or are about family members. Her memoir gives an honest insight into the workings of an everyday working-class home with lists of household jobs and the money-saving tactics of her mother. Though Adeline's family were poor, they always managed to make ends meet and have a comfortable and happy lifestyle. 'We had one of the biggest families in the Cottages and only one of my brothers of working age, yet we lived so much better. There was only one explanation, mother's ingenuity.' (I Remember, by Adeline Hodges).
Adeline's memoir depicts the differences of daily life in the home for girls and boys. For example she describes a typical Saturday that, for the women of the house, is filled with scrubbing and cleaning the house, 'whitening the hearth' and 'black leading the fire'. She goes on to write, 'This took up till teatime when the men would return from their football match, then the females of the house relaxed after tea until it was time to bath the little ones and put them to bed. Monotonous? … Anyway it was our way of life and grumbling got you nowhere.'. The gendered contrast between household duties is shown here as the men enjoy watching football while the women clean. But, as she explains, this was the expected way of life for her, her sisters, and her mother and she was not prepared to complain. She states, 'Daughters had to work very hard in a family of pit workers.'.
There is a sense of admiration and a lot of respect shown for her mother in the memoir  as she realises just how hard her mother worked for the family. Adeline lists the things her mother spends time making, for example: 48 loaves of bread a week; the families' dresses; underclothes and night clothes; ladies aprons; chemises for pregnant women and on top of this she took care of a household of 12 people. She writes, 'She was a good, wise woman, but very strict, but she had to be as there were twelve of us every day, including father, mother and Jack Blake.' Joanna Bourke recognises that homemakers such as Adeline's mother were helping raise household income through careful money management and also the skill of 'making' things.  She writes, 'the increased prosperity of working-class households from the late nineteenth century was created not only by higher wages, but also by improved housewifery.' (Working-Class Cultures in Britain, 1890-1960: Gender, Class and Ethnicity, pg.65). However Adeline does note that her father also contributed to the household tasks by building furniture and a new 'wash house' in the garden for her mother. He was a keen gardener, maintaining it and making it something to be proud of. She writes, 'Miners were very proud of their gardens. They had the most beautiful flowerbeds in great profusion, the colours had to be seen to be believed.'.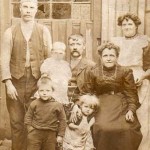 The memoir features numerous family members, such as: 'Jack Blake' a cousin who lived with them; Aunt Annie and her estranged husband Uncle Matt; Grandmother; Grandfather and an Uncle Bob – whose laugh could be heard from streets away. Her relationships with brothers and sisters are touched upon but not featured excessively in the text. This could be because, as there were such a large number of siblings,  it would be hard to express each of their individual relationships so she only tells the stories that really stick in her mind. As I mentioned before, her mother features in the memoir a lot and is always talked about with respect and love. Her relationship with her father is very similar but he seems to be the more relaxed and entertaining parent. She writes, 'Father would repeat nursery rhymes which had little semblance to the original but were much more entertaining. The same with fairy tales.' and, 'He would draw for us mostly amusing pictures and make up a story as he went on and we would be in stiches at him.'. The picture Adeline illustrates of her father is a warm, caring and loving man who enjoys spending time with his children. In the second section of her memoir she expresses her grief when he passes away, it is clear she is reminiscing on his life, not just her own. 'We had only lived three years at Seaham Colliery when my father died. I loved him very dearly and this was a great blow to me.'
Adeline mostly writes about family and home in her childhood years, but we do see a glimpse of family life in her older age. She writes, 'My grandchildren have made life still worthwhile. Our Jim is so considerate. I could not wish for anything more. Then our Ben's bairns are really lovely…My other grandchildren, I am sorry to say have grown away from me. I suppose this was bound to happen, because they are so far away.' It is clear that Adeline still values family very much as she writes her memoir, and is saddened that some of her family have 'grown away' from her. Towards the end of her memoir she admits she enjoys looking back on her happy childhood days, as she writes…
'And I think of the words of Charlotte Bronte, "Restore me to that tender spot with four grey walls encompassed round.". Home! Yet I like to recall my young days in the home of our family. What pleasures are missed when there is no family.'
Bibliography:
Bourke, Joanna. Working-Class Cultures in Britain, 1890-1960: Gender, Class and Ethnicity. London: Routledge, 1994.
411 HODGES, Adeline, 'I Remember', MS, pp.250 (c.42000 words). Brunel University Library
http://www.east-durham.co.uk/seaham/adelinedook.htm