Joseph Terry (1816-1889): His Mother the Martyr
Rosey-faced woman with one of the tenderest hearts that ever beat in a human
Joseph incessantly showers his mother with compliments; she is described as having one of the tenderest hearts that ever beat in a human breast' (Terry 3) and not a bad word is uttered against her. However, his delicate depictions expose a fragile and tender mentality, and the 'sorrowful and desponding' persona she attained is soon revealed as being 'the malady' (Terry 7).  This illness was not physical but of the mind and this declined alongside the sufferings of her and her family under the cruel hand of fate.
---
Due to his father's trade as waterman, he was often away at sea for weeks or even months at a time, shipping an array of goods to their desired destination. I don't know about you, but I certainly wouldn't like to be away from my (imaginary) spouse for such a long, indeterminable period, and these feelings are shared with Joseph's mother. In order to spend more time with her husband she would, whenever possible, accompany him onboard and bring the children with her. For that time, the ship would become a second home for the Terrys as their most prized possessions and belongings would travel alongside them, not left in an empty house back in Thornhill.
However, during these journeys she was rarely content as her anxieties consumed all other emotions and rendered her restless, swamped with unease. Joseph's father would have to whisper 'words of encouragement to soothe her fears' (Terry 5) and try to sway her into sleeping but, sadly these attempts were futile; it was of a far greater importance to scrupulously watch out for any forthcoming dangers.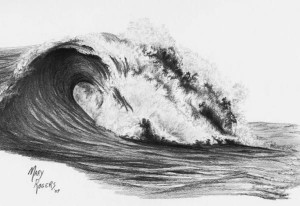 This trepidation towards sailing did not stem from a fear for her own life but a fear for her family's. It appears that the only reason she endured these dangerous journeys was so she could keep a watchful eye on her precious boys. However, on a night of one particular voyage, when Joseph and his brother were deep in slumber and his father had 'smoked himself to sleep' (Terry 5), his mother's worst nightmare materialised before her as the vessel began to flood…
Rousing her husband and springing into action, she searched for her family until all were accounted for with the exception of Jim, Joseph's brother, who was still somewhere onboard. Joseph's father urged his wife to safety, to 'come at once without him, or she also would be lost' (Terry 6). But, no words could prevent her from searching for her baby boy, not even when the 'flood was gathering around her' (Terry 6). Jim was eventually found but he was not a small lad and, almost at the cost of her own life, his mother handed him up to his father who then grabbed her 'just in time to prevent her from going down with the wreck' (Terry, 6). The Terrys miraculously survived this traumatic ordeal and left with no physical scars (just about), but the mental torture of such an incident lingered on. That seemingly lifelong moment where she believed her son to be deceased was not easily forgotten, and the shock 'went to her grave' (Terry 6).
Hope itself seemed to have fled…
On top of this heartache, the Terrys then found themselves 'pennyless' (Terry 7). The money his mother kept safe 'was never afterwards found' (Terry 6), most probably swept away into the infinite sea. The only solace his family had was managing to salvage their vessel which meant a roof over their heads and a place to call home. However, the reign of sorrow was not yet over and, in latter days following, their vessel became lost entirely and, 'hope itself seemed to have fled' (Terry 6). Bit by bit, these events pushed his mother closer to the edge until it was no longer safe for her to be alone; a 'deep melancholy and sadness had taken hold of her' (Terry 7). She was non-negotiably 'sent' to Elland 'to be taken care of' (Terry 7) and receive treatment for a deep and inconsolable depression.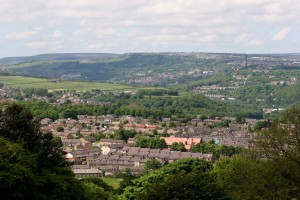 What mother would leave her child to perish? Not mine.
From nearly witnessing the loss of her child to the actual the loss of all her possessions, it is not difficult to understand the deterioration of his mother as she underwent these unfathomable occurrences. But, this in no way characterises her as a weak individual as she was strong when it mattered, and the fortitude she exuded when scouring the ship for Jim, forever defined her as a mother and as a person for Joseph. In addition to this, Joseph 'had no recollection that any of the men laid on a helping hand' so, it was alone that she did what she did and with no regard for her own body. The pride Joseph has for her radiates in his proud words: 'What mother would leave her child to perish? Not mine.' (Terry, 6). Joseph may always carry the pain from that day, but he will also forever recall his 'mother's trembling hand' that 'once more came to (his) relief' (Terry 6).  Her actions will never be forgotten and will deservingly be preserved through Joseph's memoir.
The martyred depiction of his mother is also evident in Joseph with his own children as, when they were struggling to keep afloat, he states that he 'would have given up (his) life' (Terry 90) if it meant that they would live happily. His needs came second to those of his family, just as his mother's individual needs came second to hers.
I at this moment would have given up my life to have made provision for that dear wife and those eight dearly beloved children if it could have secured their happiness.
Bibliography:
Terry, Joseph. 'Recollections of My Life', Burnett Archive of Working Class Autobiographies, University of Brunel Library, Special Collection
Image reference: An example of a threatening wave that the Terrys would endure.  (Accessed 25/01/2016)
Image reference: Elland in West Yorkshire, where Joseph's mother took time to rest. (Accessed 25/01/2016)