Minnie Frisby (b. 1877): Home and Family
Minnie discusses her childhood in detail. She had nine other siblings although she says,
'it was very rare we were all home together, as there was 5 years difference between the 5 eldest and the 5 youngest' (Frisby, I:1).
This is interesting as there could be many reasons for the age gap. Possibly her parents may have had relationship or financial struggles. However, Minnie fails to mention any reasons for this gap.
The home was important to Minnie. She recalls how they lived in two houses the first being 'one of those long ones' (Frisby, I:2) and had, '4 fields; 3 side by side in the front and one at the back; apple and plum trees all around'. (Frisby, I:3) Therefore, there is a grandeur to their home with a strong narrative of rural living with the references to nature. Minnie also highlights how her brother Ernie purchased the family home. This would have been a way to keep childhood memories alive for generations.
Regularly Minnie describes the closeness she had with her father,
'I remember when he used to stand me between his knees and sing to me, with one hand on his knee and his feet beating time.' (Frisby, I:1)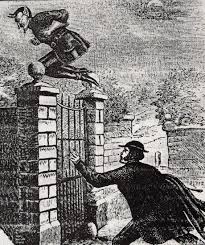 She recalls how he would 'spoil and idolize' her (Frisby, I:1). Equally, she remembers how he would tell ghost stories about the haunting of Cockshut Lane and Spring Heeled Jack to Minnie and her siblings trying to scare them.
Julie Marie Strange observes different roles of mothers and fathers in the nineteenth century. Writers tend to remember what their father's did for them as opposed to their mother's. This lends itself to Minnie as she remembers the fondness shared with her father. She also recognises how her 'father did most of the work except for the family helping.' (Frisby, I:7) Here she refers to housework and highlights how her father would complete masculine chores such as lawn mowing and outdoor work, following traditional separate spheres ideology in the home.
Joanna Bourke recognises how nineteenth century rural working women were sometimes, 'portrayed as oppressed [and] their value of work discounted' (Bourke, 143). To an extent this is evident in Memories as Minnie disregards the work her mother does. Minnie briefly mentions her mother who 'was married at 17 and reared a family of ten and also provided for old age.' (Frisby, II:2) Yet Minnie fails to fully acknowledge the extent of her mother's work. She would have been a respected woman as she was a herbal healer and midwife. This idea is contemporary of the period as working women were not as respected as men.
However, Christmas was important to Minnie and centres on her mother's cooking and baking. She remembers how there would be 'pig killing', 'boney pies', 'lovely spare ribs' and 'white pigs pudding'. (Frisby, I:2) Minnie goes into great detail about her mother's cooking, furthering the Victorian ideal of Angel in the House. She also recognises that they did not have 'many presents, [but] those we did have we appreciated'. (Frisby, I:2) This is a lovely idea and really develops the true meaning of Christmas in terms of family, quality time and homemade treats.
In contrast, the theme of death is a constant in Memories. Minnie fails to mentions love even when discussing her marriage to John (Johnny) Samuel Frisby,
'We were courting about twelve months and then engaged and then the next year married, was married in 1900.' (Frisby, I:21)
The matter of fact tone questions the closeness she had to her husband. She does not discuss her love for Johnny nor any potential children. However, I now know that she had four surviving children in 1911 according to the census. The idea that she is happiest in the past is clearly in the foreground of her writing. By not discussing her living family she is able to escape to the security of the past.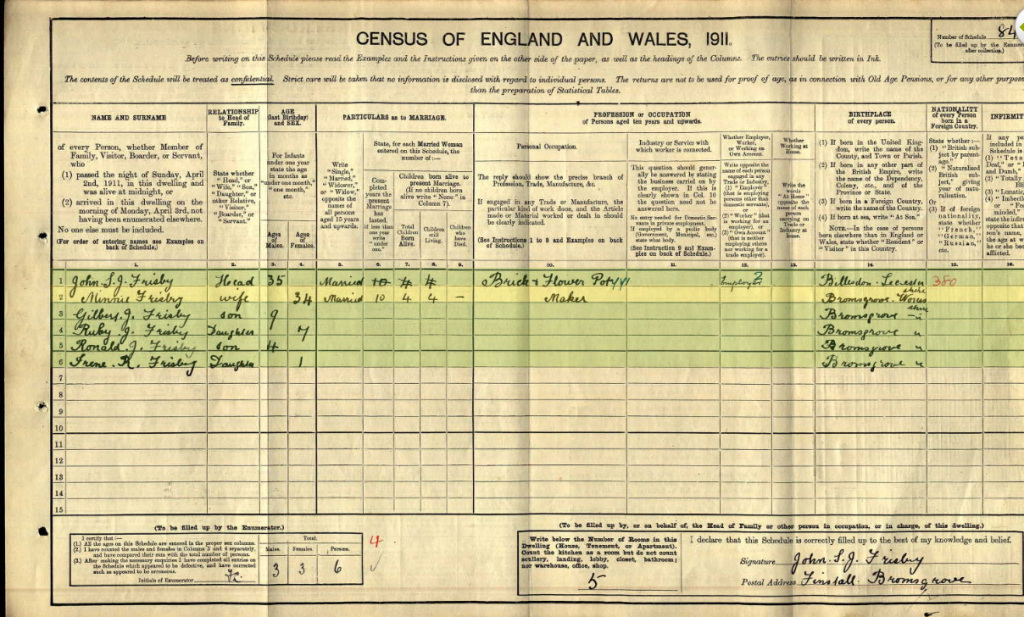 In relation to physical work Joan Perkin says, 'women endured the labour as stoically as the men'. (Perkins, 195) There is evidence of this in Memories. However, regarding emotional toil Minnie refrains from talking openly.
Due to the regularity of death it is something that she has become immune to. Her earliest memory is the death of Samuel Parkes. Furthermore, their horse Poll 'was in great demand for pulling a little hearse' (Frisby, I:14) as Poll was also a funeral hand. Therefore, Minnie may have been fearful of death and this is the reason she relishes in the past.
Minnie writes Memories out of fatigue and worry for the future. She regularly seems surprised that she is able to write at all,
'I am still in bed, another year older… but much worse… can't hold the pen very well.' (Frisby, I:5)
Although this is moving, Minnie is still spurred on to write for nine subsequent years finding comfort in talking about her family and childhood.
References
Bourke, Joanna, 'Housewifery in Working Class England 1860-1914, Past & Present, 143, (1994), pp. 167-197
Frisby, Minnie. 'Memories', Burnett Archive of Working Class Autobiography, University of Brunel Library, Special Collection, 1:250
Perkin, Joan, Women and Marriage in Nineteenth-Century England, (London: Routledge, 1989)
Strange, Julie Marie, Fatherhood and the British Working Class, 1865-1914. (Cambridge: Cambridge University Press, forthcoming, 2014)
Image References
Spring Heeled Jack 1837 (Accessed: 16/10/14)
1911 Census (Accessed: 20/10/14)
Kitty Wilkinson (Accessed: 29/10/14)