Winifred Relph (B.1912): Home and Family
When discussing working-class home and family experience, it is important to emphasise how varied the memoirs are and how differently each autobiographer writes about these themes. Vincent writes: 'The huge variety of family experience that we find in these autobiographies should not be regarded merely as an obstacle to the pursuit of historical generalization but is rather an essential historical reality' (246). Vincent highlights how, discovering the diversity of working-people's lives, is crucial to attempting to understand what was most important to them as individuals and as families.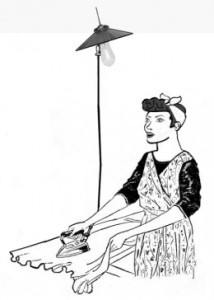 For Winifred, her family and the family unit is the main theme of her memoir. She proudly discusses each of her family members in great detail and it is clear how important these relationships were to her. Winifred recalls: 'She (mother) had a great sense of humour, which helped her to overcome the grimness of her life after my father's death. It also saved me from a hiding, if I could suddenly make her laugh after some misdemeanour of mine; the situation was saved' (38). Often focusing on humour within the family, it is apparent that Winifred had very close bonds with each of her family members and felt comfortable openly discussing these relationships in her memoir.
A central aspect of 'Through Rough Ways' is Winifred's relationship with her father. Although her father tragically died when she was only eight, her memories of him and their relationship remain very fresh to Winifred. She writes: 'My memories of my father are very happy ones; he was always interested in his children' (34). When considering working-class family experience, men have often been excluded from these discussions and characterised as distant figures who are rarely at home and often unaffectionate towards their children.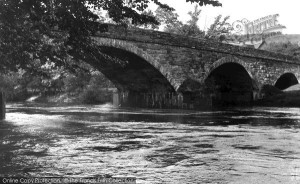 Winifred's memoir challenges these claims and illustrates a very involved and loving father: 'When he (father) took us for walks he pointed out trees and plants along the wayside and told us about the countryside in Somerset where he spent his boyhood. He was a pioneer Socialist and Trade Unionist, a great reader, and he bought us books and encouraged us to read' (34). Later in her memoir, Winifred also displays a keen interest in the countryside, Socialism and reading. This may have been a conscious effort by Winifred to make her father proud or, possibly, a way for her to access her childhood memories spent with her father.
Winifred was very much aware of the shift in the family dynamic when her father died. Unfortunately, her mother struggled to support the family financially and became quite depressed in the months after the father's death: 'Mother was musical and sang all day long on her good days. I missed this after my father's death more than anything; it seemed months before she sang again, and oh how I longed to hear her sing; in my childish way I felt that this would prove that everything was normal again' (38). Winifred's memoir illustrates how, although they may be young, family bereavement severely affects children's lives and the feeling of loss remains throughout their adult life.
'Through Rough Ways' also displays how children often understand the financial complications that come with the death of a parent. Winifred suggests: 'I was very conscious of the worries and strains my father's death had caused, both Evie (her sister) and I longed to be older so that we could go out to work and help' (43). Winifred felt it was her own responsibility to help her mother through this difficult period and often refers to her childhood ending at the age of 8 when her father died. Vincent writes: 'The tenuous balance of the family economy would be threatened by a loss of income' (238). As Vincent stresses, working-class family life is always vulnerable to financial problems. Winifred's family struggled considerably due to the loss of her father's income but the strength and closeness of their family dynamic did not falter.
---
Works Cited: 
Relph, Winifred, in Burnett, John, David Vincent, David Mayall (eds) The Autobiography of the Working Class: An Annotated, Critical Bibliography, 3 vols (Brighton: Harvester, 1987) 2:657
2:657 Relph, Winifred, 'Through Rough Ways', TS, pp. 120 (c. 63,000 words). Burnett Collection of Working Class Autobiography, Brunel University Library
Vincent, David. 'Love and Death and the Nineteenth-Century Working Class'. Social History, 5.2 (1980): 223-247
Images Cited: 
'Image of children's shoes 1920s' from 'Join Me in the 1900s'. http://www.1900s.org.uk/1900s-mens-shoe-mending.htm accessed: 02/11/15
'Image of housewife in the 1900s'. from 'Working-Class Life'. http://hubpages.com/politics/Working-Class-life-in-the-1940s-50s-After-Wash-Day accessed: 02/11/15
'Image of Working-Class Domestic Life in 1900s.' from 'Working-Class Life'. http://hubpages.com/politics/Working-Class-life-in-the-1940s-50s-After-Wash-Day accessed: 02/11/15
'Image of the village of Edenbridge, Kent 1900s'. from Francis Firth Collection. http://www.francisfrith.com/armathwaite/armathwaite-eden-bridge-and-river-c1955_a293011 accessed: 02/11/15