H J Harris (b.1903): An introduction
'Thus I was "on my own" in every sense of the word!' (Harris, 03/05/78)
My 'adopted' author is Mr H J Harris and I chose him because his story and experience stood out from the rest of the autobiographers.  His memoirs are different to other authors in the project because they are only 5,000 words in total and are in the medium of typed autobiographical letters.  Throughout my research I will call Mr Harris 'HJ'.
HJ life began in 1903 in Bristol where he lived with his mother and father and two brothers and two sisters.  When his Father passed away in 1906, his mother was unable to look after him so he was sent to an orphanage and it is from this time that Mr Harris suffers tremendous sadness and loneliness.
The orphanage he was placed in was called The New Orphan Houses, also known as Muller's Orphanage after the man who established it.  In his letters he talks about the punishment he receives for being a 'bed-wetter' and how this labelling has affected his life.
'It was an Institution closed completely to the outside world.  So when the time [came] for me to leave , I was thrown out into a strange world of which I knew nothing at all.  Something like Tarzan' (Harris 18/04/78)
HJ had little contact with the outside world, only having a visit from his Mother several times.  Interestingly he had no contact with his siblings who were also placed in the orphanage.
The New Orphan Houses
HJ was briefly re-acquainted with one of his sisters when he was discharged from the orphanage at the age of 14 but the reunion was unsuccessful and resulted in HJ living in The Gordon Boys' Working Home in Birmingham.
He found employment sorting out old rags and baling up old metal scrap but he was worked so hard that he physically could not do the job for a long time and was labelled "work-shy" (Letter 2) and was turned out of the home.  Thus began his life as a homeless person,
'I was terribly frightened and uncertain that I had a mental breakdown which even to this day effects [affects] me' (Harris 18/04/78)
HJ struggled with living in society and as a result spent time in an asylum. I am interested in the way he compares and contrasts the experiences, uniforms and routines he had, whilst living in the orphanage and the asylum.  He says "Willingly I will explain how life in a Victorian Orphanage could be paralleled to what I experienced in a lunatic asylum" (Letter 8).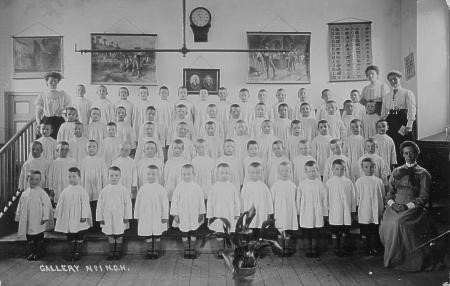 It was pure chance that HJ became part of the Writing Lives project.  Whilst listening to Woman's Hour on Radio 4, he heard Professor John Burnett appealing for people to contact him if they had any memories or memoirs of social history in the early part of the century.  HJ writes that Burnett was 'fortunate, to have ME as a listener, on that particular day, as Woman's Hour is not my top programme by any means' (Letter 5).  So began a correspondence between HJ and Burnett between 1978-1984.  This can be viewed as problematic for myself as researcher and you as reader because it is an unusual piece of autobiographical writing.
HJ has often been misunderstood and his writing can be confusing, but for the purpose of my research I will write exactly how HJ writes.
"Anything else you you'd like to know about Social History in the early part of this century ask me, I can tell you.  Workhouse life Mental hospital Lifebas [life as] a tramp.  Yes that's been my experience."(Harris 30/01/84)
What I find touching is that despite the correspondence HJ does not have much confidence in his abilities as a writer and writes;
'By the way, if you make use of any particular in my letters please write it in your own style.  I'm no author, or I'd have written a book a long long [time] ago' (Harris 30/01/84)
I find HJ letters humorous and at times moving.  Though Jerome Buckley argues 'memoirs of working class people lack personality and flow', Harris's sardonic personality and wit shines through as he writes.  Although some of his letters do not always make perfect sense I find his writing skills eloquent.
I am looking forward in eager anticipation to learning more about HJ and whether he found a sense of happiness in his lifetime, and I hope you as a reader, also feel the same way.
Burnett, J. Mayall. D. Vincent, D eds. The Autobiography of the Working Class: An Annotated Critical Biography 3 vols. Brighton: Harvester, 1984, 1987, 1989.
Gagnier, Regenia Social Atoms: Working-Class Autobiography. Subjectivity, and Gender',  Victorian Studies, Vol 30,  No. 3 (Spring, 1987), pp.335-363
Harris, H.J. 'Autobiographical letters, 1978-1984', TS, pp.13 (c5,000 words). Brunel University Library
Vincent, David 'Love and Death and the Nineteenth-Century Working Class'.  Social History, 5.2 (1980): 223-247
Ashley George Muller's Orphanage http://www.about-bristol.co.uk/ash-01.asp Visited 29/09/14 09.40 am