May Owen (b.1896): An Introduction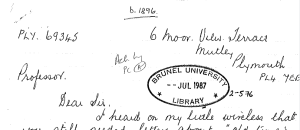 May Owen wrote her ten page handwritten autobiographical letter at the age of eighty to Professor John Burnett who was searching for information about the 'old times' (Owen, p.1) from other working class memoirs and autobiographical letters.
Owen takes on an apologetic voice as she believes her life may not be that interesting and even suggests that he may 'destroy [her] letter' (Owen, p.1) if it is not useful. Regenia Gagnier states that in fact 'most working-class autobiographies begin not with a family lineage or a birthdate but rather with an apology for their authors' ordinariness' (p.338, 1987) as it was typically the upper classes and the famous who would write a memoir. But since May Owen's autobiographical letter has survived it has provided help for both the professor and myself in writing my author blog posts!
I choose May Owen as an author for my blogs because of her life in Yorkshire, where she
moved at the age of 10 to follow her father. Being from Yorkshire myself it is interesting to find out old traditions and cultures that Yorkshire colliery villages held, particularly the stoning effigies of local women who had 'misbehaved' in the early 19th Century.
The first part of Owen's memoir revolves around her family life and how her father's addiction to alcohol uprooted herself and two of her youngest siblings to Yorkshire for a clean state. Despite her father suffering from alcoholism it is clear from her memoir that she still regarded him highly. Her mother and her five other siblings stayed in London with two of them with already in reputable jobs as a civil servant and a personal maid.
The rest of Owen's letter focuses mainly on her different careers, how she was able to join a teacher training college but decided it was not for her and joined the Land Army instead. Owen did eventually take up a teaching position for three years. After her naval husband died Owen was forced back into work where she became a hotel receptionist and then finally took her last job in domestic service as a housekeeper for two years.
With so many jobs, Owen expresses some distaste towards her employers and school inspectors, giving the impression that Owen saw herself as more than just a working-class widow. This mirrors what Jonathan Rose said, 'memoirists are not entirely representative of their class (whatever that class may be), if only because they were unusually articulate.'(p.51, 1992) Without knowing Owen's class from just her writing and feel of superiority, any reader would believe she belonged to a high class.
Bibliography
May, Owen. Autobiographical Letter. Burnett Archive of Working Class Autobiography, University of Brunel Library, Special Collection, 2:576
Rose, Jonathan. 'Rereading the English Common Reader: A Preface to a History of Audiences' Journal of the History of Ideas, Vol.53, No.1. University of Pennsylvania Press. Web, accessed 5/10/2015 www.jstor.org/stable/2709910. Jan- Mar., 1992. Pp 47-70.
Picture of Colliery Village: http://www.treetonweb.co.uk/history/colliery.htm