Thomas R. Flintoff (1904-1994): An Introduction
| | |
| --- | --- |
| Name: | Thomas Ralph Flintoff |
| Birth Date: | 13th May 1904 |
| Age at Death: | 90 |
| Registration district: | Garstang |
| Inferred County: | Lancashire |
My name is Joshua Gardner I am a third year English student taking part in a research project on working class writing and memoirs in the early 19th Century.
Whilst searching through the Burnett archive on working class writing I read through many different memoirs in order to find a writer to suit me who shared similar interests in order to gain an insight into the working class life during the early 1900's. As I was reading, I asked myself what I wanted to gain from my author. I decided it was paramount to share an interest with what would be my chosen author, whether this was sharing similar hobbies, interests or similarities between my life and my author's. The memoir of Thomas R. Flintoff interested me immediately. With my family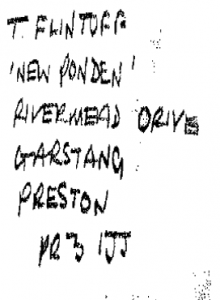 originating in and around the Preston area, reading Flintoff's memoir sparked an immediate response to find out more as I could relate to the locations mentioned within his memoir.
Thomas R. Flintoff wrote a 14,000 word published memoir about his life titled 'Friday the Thirteenth of May' written retrospectively and in chronological order beginning with his earliest childhood memory through the journey from childhood to adulthood within Preston. Although the date the memoir was published remains unclear it can be estimated to have been written between the 1950's-1970's. What initially struck me was the title of the memoir. 'Friday The Thirteenth Of May' for many contemporary readers is a superstitious date that relates with bad luck. I was eager to find out if there was any significance to the date or whether it was simply a religious connotation, something that he was extremely passionate about.
Flintoff was born in 1904 and through his memoir he describes his life in great detail. Flintoff draws upon his education and his working life and how life when he wrote the memoir differed from his childhood. We learn through anecdotes major incidents and factors that shaped his life, ranging from his childhood experiences including his regular attendance at Sunday school as well as informing us of his serious eye-condition where he was treated at the Manchester Eye Hospital preventing him from attending school for a lengthy period of time.
In between many of his anecdotes on his upbringing and working life he offers the reader an insight into the historical context which took place including new laws and schemes that were brought into place and how these made an impact on his life.
"The national Insurance Act which came into operation in January 1913, provided free medical treatment and sickness pay of ten shillings per week. Hospital treatment was not however included in the Act." Thomas R. Flintoff (Page 4)
Later we learn of Flintoff's interests in religion and politics. As an individual he played a very proactive role in political and religious groups in Preston. It is clear, his passion and interest in such fields eventually led to him writing and publishing his own books titled 'Preston and Parliament' and 'Preston Guild Merchant-Preston's week of Pageantry as celebrated from 1328 to 1952' which are still to this day available
through Amazon. The second one stemming from 1923 in which he claimed was 'quite an important year in [his] life' (Flintoff, page 29) as he was appointed Hon. Secretary and Marshall of St. Saviour's Sunday school.
With all my family originating from Preston I am looking forward to discussing the possibility of my grandparents being familiar with the Flintoff family. Although this is still the early stages of my project I am currently researching such possibilities and hopefully look forward to establishing greater insight into the life of Thomas R. Flintoff. Therefore it can safely be said that it was the history of the location that interested me the most and lead me to choose the working class memoir of Thomas R. Flintoff.