Joe Ayre (b.1910): Life and Labour
When researching and writing on Joe Ayre's life I often find him lacking. His life lacked education, family, and support. One area Joe's life was certainly never lacking in however, was labour. The need to work, different kinds of work, and one's relationship with work, are all prominent themes of The Socialist. It is easy to understand why when one takes into account Joe's upbringing. At a young age Joe was exposed to the dangers of poverty as his father's unemployment led to a visit from the bailiff and his men who 'dumped all our bits and pieces of household goods in the middle of the terrace' (13). The family were forced to search 'the streets looking for a place to live' (13). Poverty was never far from Joe throughout his life, and he quickly realised the only way to keep out of it was work.
With Joe's father struggling for work and motivation a young Joe was pulled out of school in order to work on a stall in Liverpool's "Paddy's Market". This situation may seem unfair, but the damning state of the British economy likely made this a necessity, rather than a desire. The historian Kenneth O. Morgan discusses how in post-war Britain 'there were new and disruptive problems that resulted from the loss of foreign markets and sale of overseas investments to pay for the war' (2000, 16). Facing such problems 'the government failed to prevent massive unemployment' (2000, 18). People like Joe's father suffered, and people like Joe were forced to help pick up the pieces.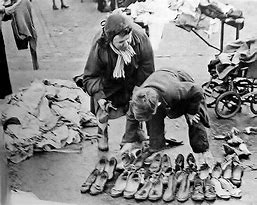 In some of his earliest memories Joe recounts how 'my Brother Bill and I would take care of the stall and sell the merchandise' (19). They were often selling what little their stepmother could find, and whilst they sold her produce she would drink the profits away in the pub. Their stepmother would 'return periodically to pick up the cash we had taken and it didn't matter how well we had done it was never enough' (19). Joe's deflated admission of never being able to meet his stepmother's demands is even more poignant when one realises Joe was missing his education in order to fuel her habits and remain in poverty. Joe even admits 'at times we had to resort to stealing' (16). Joe does not seem embarrassed or ashamed by this revelation, rather he rightly assumes the reader will understand that as an inexperienced poor child he had little choice.
Whilst still a child Joe found himself in a position he rarely frequented in his life–the envy of those around him. He was made a door-boy at a high end office and as such was introduced to a high end capitalism. The impressive new job came with 'a smart uniform, and a desk in a little cubicle' (26). Joe was given high levels of responsibility and was often tipped by the office's clients. The memories of his time as door-boy are some of the memories Joe recounts most fondly. When taking into account the strife he had already experienced, and would later continue to face, it is easy to see why. Those living below the poverty line 'accepted a steady decline in living standards and went on wishing for nothing more than to be "respectful and respected'''(Roberts, 1971, 237). This position was the closest Joe ever had to a job with some status, and garnered him the respect his stepmother had never afforded him. He rightly felt the position was 'a great privilege' (26).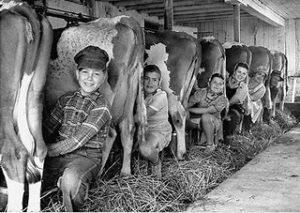 Joe would eventually leave Liverpool, migrating to Canada in search of a better life. This search found him plenty of work, admittedly only whilst he was a child and therefore still cheap labour. Joe worked on several farms throughout his time in Canada, a new intense level of labour he had not experienced before. The work was hard and as Joe admits 'there is only one way to learn and that is get at it, and that is what I done' (32). Joe over time would learn everything there was to know about farm work, doing everything from milking the cows to building farmhouses. This tough work rather than break Joe, made him. Looking back he recalls how 'the work was hard but somehow it was satisfying' (35). Joe took pride in his work, likely because it was such a huge part of his life.
Throughout the rest of his life Joe would work various other roles including cutting ice and welding for the navy. These jobs, however, came after long periods of unemployment and a life walking the road. During this time Joe sadly admits he had given up on finding work and that begging was now his occupation. Luckily he would later find work and meet his wife, and partially lived what today's reader would consider a happy normal life. Unfortunately Joe's memoirs end with him being taken away from his family to take part in the Second World War which would likely bring economic uncertainty for years to come. This sounds familiar because it mirrors Joe's father's experience in the First World War. As much as Joe had tried to avoid growing up to be like his father, for the working class in Britain it seemed the game was rigged from the start.
Joe takes great care when describing the various work he did throughout his life, and as previously mentioned he takes pride in his labour. David Vincent reasoned that 'the less literate the writer (…) the greater his preoccupation with the details of his life as a worker' (1982, 62). By his own admission certain aspects of Joe's life were fairly unspectacular, but his work ethic was spectacular. Vincent's comments certainly ring true in the case of Joe, as he is keen to show that although he was poorly educated and unsupported he was able to make a respectable living almost all his life. Joe Ayre would never earn more than what was necessary for him and his family to survive, but as long as he could do that he was happy. As long as he could do that he remained satisfied with his efforts in labour.
Bibliography
2:29 AYRE, Joe, 'The Socialist', MS, pp.178 (c.43,250 words). Brunel University Library.
O. Morgan, Kenneth. Twentieth-Century Britain: A Very Short Introduction. Oxford: Oxford University Press, 2000.
Vincent, David.  Bread, Knowledge and Freedom: Study of Nineteenth Century Working Class Autobiography. 1982.
Roberts, Robert. The Classic Slum: Salford Life in the First Quarter of the Century. 1971.
Images
Paddy's Market – https://www.pinterest.co.uk/pin/463378249141363952/
Child Farmers – https://www.pinterest.co.uk/pin/279715826829664061/