Mrs W.E. Palmer (b.1908): Life and Labour
Memories of Long Ago, is a nostalgic account of some of Mrs W.E. Palmer's childhood years which she spent living at Harting Coombe Farm in Sussex, from 1910 to 1925. With the sole focus being on her childhood, Winifred does not reveal her own experiences of labour in her writing. Yet, it still remains a topic that lies at the core of her autobiography. Winifred instead focuses on the work of both of her parents, Flo and Will Beaven, revealing two very different accounts of their experiences of labour.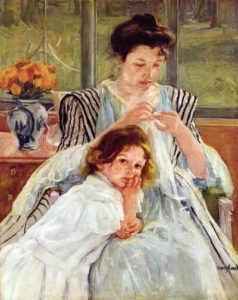 A dressmaker and member of the Women's Institute, born in Brighton in 1875, Flo Beaven was a hard-working woman. Work dominated the lives of the labouring classes in the 19th century, and with little time for 'childhood', Flo 'left school at fourteen' (2) and 'was apprenticed to dressmaking' (2). The business was run by a lady named 'Mrs Maitland in a house called "Floretta" in Haywards Heath. Two rooms on the first floor were used as a workroom and fitting room' (2). Winifred fondly recalls how 'the children never tired of listening to stories of the workroom' (2), which was likely due to the pleasant working conditions of the business. 'The girls, about a dozen of them, sounded a jolly lot. As long as they kept on working, they could sing and talk to their hearts content' (2) – and sing they did! 'Gillbert and Sullivan songs were great favourites, and as they were all keen on dancing someone was always humming "the Mysotis Waltz", the "Blue Danube" or the "Sir Roger de Coverly"' (2).
The forewoman would sing out "Whistle and ride girls, whistle and ride" (2)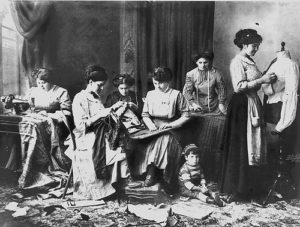 For Flo, labour appears to be a source of solidarity and camaraderie. 'All the girls in the workroom saved up for a bicycle, and at weekends and holidays two or three of them would go off on their cycles' (3). Of course, there were times of frustration when met with 'awkward customers, old tabs the girls called them' (2). One customer 'made it practice to always send the finished garment back for alteration, but one day the forewoman was so fed up, when a dress which had been beautifully made came back to be altered, she said "Oh bother the old tab, there can't be anything wrong with it, we will take a chance and send it back as it is" which they did' (2-3). Much to the girls astonishment, they received a letter from the lady 'saying the dress fitted beautifully since it had been altered' (3). Significantly, this portrayal of mischief echoes Winifred's childhood experiences of class. Winifred claimed that 'there were only the rich and the poor or "Them" and "Us". We the poor were "Us", and if "Us" could get one over on "Them" the rich, it was rather fun' (6). Though, it must be said that in Flo's case, 'the whole workroom quaked in their shoes, wondering what the outcome would be' (3), especially as 'Mrs Maitland knew nothing of this move' (3).
Francesca was eleven when she heard her mother reading out the bankruptcy lists in the Daily Mail, and it seemed that nearly all the bankrupts were farmers. In spite of all the hardships and poverty, (Flo used to say "Never mind about church mice, we must be church worms") life was well worth living (7)
In contrast to her mother's seemingly joyful experiences of labour, Winifred sees the work of her father in terms of hardship. As discussed in my home and family post, Winifred acknowledges the crippling pressures through which Will lived. Life as a tenant farmer was exceedingly difficult, and for Will, the threat of losing work was ever present. Alun Howkins acknowledges this in his discussion of 'the three great interests connected with agriculture – the landlord, the tenant and the labourer' (2003, 8). Revealing that, 'the industry in which these worked or drew profit from was still, in the early 1900's, in a period of mixed fortunes, and nobody felt this mix more than the farmers' (2003, 8). Norah Elliott, whose grandfather was a farm labourer, reaffirms this claim as she reveals that 'farming could not have been in too prosperous a state'. Sadly, threat turned into reality in 1925, as Will was left bankrupt and faced no choice but to leave Harting Coombe Farm with his family. Read my home and family post to discover the implications of Will's work on his role as a father and his relationship with Winifred and the home.
Works Cited:
Howkins, Alun. The Death of Rural England: A Social History of the Countryside Since 1900. London: Routledge, 2003.
582 PALMER, Mrs W.E., 'Memories of Long Ago', TS, pp.34 (c.12,200 words). Brunel University Library.
'Mrs W.E. Palmer' in John Burnett, David Vincent and David Mayall (eds) The Autobiography of the Working Class: An Annotated, Critical Bibliography 1790-1945, 3 vols. (Brighton: Harvester, 1984, 1987, 1989): 2:582.
Elliott, Norah. 'Untitled'. The Autobiography of the Working Class: An Annotated, Critical Bibliography. Ed. John Burnett, David Vincent and David Mayall. Brighton: Harvester, 1984, 1987, 1989 (3 Vols) Nb. 2:242. Available at http://bura.brunel.ac.uk/handle/2438/10895
Images:
Mary Cassatt (1844-1926) – Young Mother Sewing, 1900. – Accessed (06/04/2017)
Dressmakers in the workroom – Accessed (06/04/2017)