Percy Vere (H.V.Smith) (b.1913): Illness, Heath & Disability
The first mention of poor health in Percy's memoir, is when appendicitis puts his marriage on hold. ' As on September 19th 1936, we were married at The Croydon Parish Church after a postponement because I was taken to hospital for an appendix operation.' (Vere, 5) Unfortunately, for Percy, this would not be the last of his trips to the hospital, although he does not return until much later in his life and his memoir.
As a man who has been working since he was a young child, illness does not just interfere with his labour but as his life as a whole. When he has a bad fall and damages several discs in his spine, it seems that he may never walk again. 'After laying flat in bed for a month, I asked the doctor, what about my job? 'Mr S, you'll be lucky if you ever walk again.' (Vere, 19) For Percy as a person, never walking would have been a horrendous thought but as a working class man not being able to work would put into question many things including how he and his family would survive. He tells a story of how he received the wrong injection in hospital. "I have an injection for you Mr S'. As I had not had any in the nine months I had been in bed, I queried this the next morning with Sister. 'You have been dreaming, Mr S'. But it turned out, another Mr S. had been brought in that evening and I had his injection. Fortunately, no harm done.' (Vere, 19) Fortunately, Percy did walk again and was discharged from the hospital after a long 9 months. However, his story gives us a picture of just how different hospitals were before the National Health Service.
For many years after this, he worked office jobs with little health issues. However, the tone of his memoir changes here and it seems that he has the desire to share his wisdom. 'Looking back, I now think it is best to take a chance when they come along, which is not very often I know.' (Vere, 21) Percy and his wife buy a general store in Lingfield, working hard to save enough money to buy a bungalow of their own. Sadly, Percy suffers a stroke and when undergoing another operation he has another stroke. He was discharged from hospital in 1968, with no use of his left arm. A shift in gender roles happens, as he wife now has to run the shop smoothly and profitably. As David Vincent discusses in Love and Death and the Nineteenth-Century Working Class, in times of illness and hardship, working class men had only their family to turn to.
'Conversely, in time of hardship, a working man would look primarily to members of his own family for material as well as emotional support. The wife was in charge of the household budget and her efficiency, ingenuity and courage in a crisis were crucial to the economic survival of the family.' (Vincent, 239)
For two years, Percy Vere, persevered until he suffered from a perforated ulcer. 'I was once again rushed off to hospital leaving my wife once more on her own again, which was a formidable task. If it hadn't been for her, I'm sure we would have gone broke..' (Vere, 23)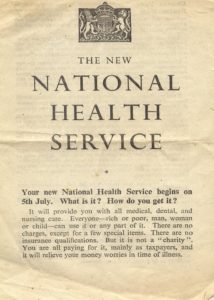 Eventually the stress of running the store was too much, and Percy and his wife sold it and bought a bungalow. Incredibly, Percy recovers enough to get another job at the local brickworks and his wife a job at a local chemist. 'So we kept on until I had, yes, another stroke. That I thought was the last straw! But, no, when I was partly recovered I had an attack of angina.' (Vere, 24) After his angina, Percy recovers slightly and has to endure yet another stroke. He speaks of the good friends that he make by joining the Oxted Stroke Club and Work Centre. The end of his memoir is an emotional one, telling of his appreciation for his wife, who has to dress him every day.
'We are both OAPs. We have both worked hard but when I look out of our very large picture window and watch the blue tits going into their nest-box, I think, it has been worth it.' (Vere, 25)
Percy's experience of illness is an inspirational one; the physical task of typing his autobiography highlights just how perseverant he really was. A memoir that really teaches the readers to persevere, despite how many obstacles stand in your way.
Percy suffered from many different physical illnesses, but if you want to read about the treatment of mental illness, check out this extremely interesting and emotional blog post on Harry Dorrell.
Works cited:
Vere, Percy, The Autobiography of a Working Man , Burnett Archive of Working Class Autobiographies, University of Brunel Library, Special Collection, 2:783
Vincent, David. Love and Death and the Nineteenth-Century Working Class, Social History, Vol.5, No2 (May,1980) p229-239
Images:
New Guy's Hospital: National Archvies: http://www.nationalarchives.gov.uk/cabinetpapers/themes/nhs-under-pressure.htm Last accessed: 10th April 2017
NHS: Chorlton Good Neighbours. https://chorltongoodneighbours.org/2013/07/09/the-origins-of-the-nhs-in-manchester/ Last accesed 10th April 2017