Minnie Frisby (b.1877): Politics, Protests and Class
In Memories, Minnie does not discuss any political tendencies she or her family had. Instead Minnie focuses her memoir with references to domesticity, family, childhood and employment.
However, it is clear that community was important to Minnie. Having lived in Bromsgrove all of her life, Minnie certainly had rural, working class blood running through her veins.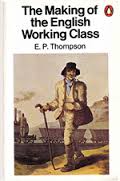 Arguably, by 1832 the working class were identified  as a separate class. This is an idea developed in EP Thompson's book, The Making of the English Working Class. Thompson states,
'in the years between 1780 and 1832 most English working people came to feel an identity of interests between themselves, and as against other men whose interests are different from (and usually opposed to) theirs.' (Thompson, 11)
From here, the working classes faced a constant battle for survival and to identify their rights as a working cohort. Minnie's father was a Nailer by trade, a popular trade in Birmingham but it was plagued with strikes and difficulties throughout the nineteenth century. Therefore, although Minnie does not disclose any political involvement, it is more than likely that her father would have been interested in the development of the nail trade.
As previously discussed, community was important to Minnie and she remembered many people in her village as a child and throughout adulthood.
Minnie recalls trading between her family and Jimmy Ba Baa,
'I also remember Jimmy Brown, Jimmy Ba Baa as he was called he used to bring us toffee and windmills for a few rags and bones.' (Frisby, I:13)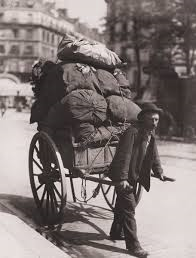 Communication and trading was popular amongst working classes. Trading was tightly woven into a community and people supported each other. Villagers knew what other people had to offer and between them they could trade effectively.
This sense of community is furthered by Minnie's family involvement with the production of watercress. She remembers how people would come from all over to sample the cress,
'Yes, those watercress beds soon became very famous, and people would come from miles around to buy the cress.' (Frisby, I:6)
Clearly this shows how Minnie's family would have been recognised in the area and the regularity of trading between communities was a constant.
Finally, it is important to remember that there were lots of developments for working class families during Minnie's lifetime. For example, the Education Act of 1867 enabled Minnie to have a basic education. The Equal Franchise Act in 1928 would have allowed Minnie to vote. Therefore, although Minnie does not discuss politics explicitly, it clearly had a wider impact on her life.
References:
Frisby, Minnie. 'Memories', Burnett Archive of Working Class Autobiography, University of Brunel Library, Special Collection, 1:250
Thompson, EP, The Making of the English Working Class, (Penguin Books ltd: Toronto) 1980
Image References:
The Making of the English Working Class (Accessed: 29/11/14)
Rag and Bone Man (Accessed: 29/11/14)