Alexander Howison (b. 1795): Purpose and Audience
'I propose giving you a short narrative of your father's life, as I think this will be the only portion your father will be enabled to give you.' (p1)
Alexander's memoir opening line is with this 3rd person statement; 'I propose giving you a short narrative of your father's life, as I think this will be the only portion your father will be enabled to give you.' (p1) Thus commencing Alexander's life story across the world and then subsequently back to his Scottish roots where he brings four children into the world and writes his story to them.
Alexander's autobiography is not laid out in a typical fashion, it does not contain chapters and rather runs on as one continuous story. As I do not have access to the original, we cannot be sure if the paragraphing and punctuation was done by Alexander or has been transcribed and set out afterwards.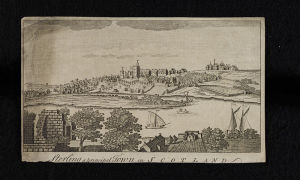 The narrative changes to 1st person as we travel through his life story his language remains tranquil and unpretentious as he guides the narrative through his adventurous life. Alexander starts his story from the traditional beginning, he tells us of where he was born in Shieldhill, the Shire of Stirling just two miles away from Falkirk, on March 10th 1795. In a very matter of fact way he gives a '-short notice of [their] Grandfather and Grandmother' (his mother and father) acknowledging they 'were poor but honest' (p1) and they had brought him and his brothers up to be honest, as shown in his later years when they got 'paid [their] monthly advance pay and [he] was determined to settle with [his] landlord' after getting 'a little in debt.' (p20)
Alexander does not settle, after his schooling he was not inclined 'to be idle' so he took jobs to make himself 'proud and manly' (p5) he however is constantly moving between jobs, always looking for the next best thing and all too often leaving engagements 'never fulfilled' (p7)  He was often made 'tempting' (p5) offers of work that increased in lucrativity each time, illustrating that although he did not seem to want to settle long enough to fulfil engagements he was a good and hardworking boy that was sought after.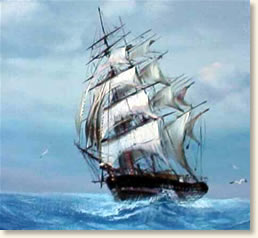 When 'the sea became [his] wish and choice' the fact a Scottish ship would not take him, due to his insecurity of fulfilment, he was 'not to be done' (p7) and simply joined a British naval ship (name not stated) at Grangemouth Port instead. So from the month of March 1811*, the 16 year old Alexander began to make his way round the world upon the sea.
* It is worth noting here that Alexander is not entirely sure on dates, stating 1810 or 1811 to be possible years of his apprenticeship commencing,  however he does note that it is the 'night of George III's Jubilee or fifty years a king and there is one of the very few hand embellishments that states 1811.
His life on the oceans also undoubtedly gave him an escape from farming or coal mining to find excitement, money and travel as a Scottish working-class boy. He essentially grew up upon ships as he spent a large part of his adolescence aboard and he does ask that his children will overlook certain 'incident[s]' as something to be seen as 'an error in youth or the easy careless life of a sailor.' (p2) It is not unreasonable to consider that the primary intended readership had an immediate effect on how Alexander recalled his dramatic tales of the seas.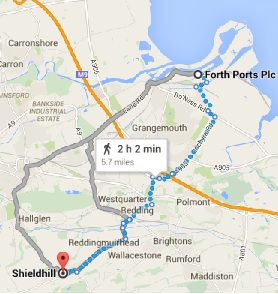 He is open with many aspects of his life, including his debts, rum drinking 'I never saw rum shipped without trying the quality' (p19) and being involved in a mutiny, it is however dulled in the possible rich detail, but could be taken as a lesson for his children, that whatever they may do in life they can lead a honest one. Indeed his tales of his ship mates cavorting with prostitutes [something he denies partaking in himself] is skated over without too much lavishing with arguably unnecessary and erotic detail. Although some may feel that it perhaps takes something away from the drama of a lifestyle we may be more familiar with in rum soaked pirate movies, it is for the eyes of his children, a private audience. I get the impression his children have not had previous knowledge of his mischiefs so by writing this autobiography he can explain his life and also limit the details.
We also see on the last few pages of the autobiography that his wife is battling Cholera picked up from the 1832 pandemic that swept through Scotland. Perhaps an acknowledgement that he would be wise to get his life on paper while he has the opportunity to do so, a just in case scenario, is a factor of this autobiography coming into being, especially as their youngest son Peter, who makes up the seventh member of the family, being just 8 days old when his mother becomes sick.
Alexander's autobiography is one of the eldest held by The Burnett Archive and even though Alexander gives no indication that his intention is to pass on his personal journey to any but family, it stands as an excellent testament to the importance of these writings. He shows great courage through his life and was, from a young age, not to settle to his lot in life, and not fenced in by his humble and poor beginnings, showing that an honest, positive and adventurous attitude is all it takes to be free from the constraints of working class lives, seeking out every great perhaps away from his home.
The matter of fact way the memoir is written is endearing for its readership, he doesn't dramatize or fixate on the fact he was working class and from a large family, indeed he is very positive about his humble beginnings. Although he returned to his Scottish roots in the end, it was as a man that understood the world and then dedicated himself to his love, Miss Nesbit, and their 7 strong family. The fact that his story has survived to echo down the years makes it a life story that should not be lost to time.
Bibliography:
Gilbert, Pamela K. "On Cholera in Nineteenth-Century England." BRANCH: Britain, Representation and Nineteenth-Century History. Ed. Dino Franco Felluga. Extension of Romanticism and Victorianism on the Net. Web. [29/10/2014]
Howison. Alexander. (n.d) Autobiography of Alexander Howison 'Burnett Archive of Working-Class Autobiography, University of Brunel Library. 1:354
Image A: http://commons.wikimedia.org/wiki/File:Jacobite_broadside_-_Stirling_02.jpg
Image B: http://www.eyewitnesstohistory.com/shanghaied.htm
Image C: http://sickcityproject.wordpress.com/2013/03/11/john-snow-and-cholera/
Image D: http://sickcityproject.wordpress.com/