Audience and Purpose, James Ashley (b.1833)
Within James Ashley's memoir he talks largely about his family, especially his children and speaks in great depth about their achievements, particularly about his eldest son Will.
"In 1875 Will had been placed twenty-third in the genereal list of oxford Local Examinations (Junior); in 1876 he gained a good place in the senior oxford local, and 1877, his last Oxford Local Examination he was placed first in all England in History and Literature and fourth in the General List" (Ashley p.24)
This tells me that James's primary audience was for his future generations such as his children and grandchildren, with the purpose of informing them of family history and success. However I believe with further examination other audiences and purposes can be suggested. Praise of his children does not come until later on in the memoir, firstly James illustrates to me how he became financially secure, creating a good environment for him and his wife Jane to raise a family, in an age where making 'ends meet' would prove to be particularly difficult, especially for someone who derived from a working class background like himself. After James had left school he took an apprenticeship up in silk hat finishing on the 1st October 1850 which lasted for four years. James speaks in good regard about his time spent there, mentioning that at the time the trade was particularly busy, as the hats were highly fashionable within Wales. After his apprenticeship had finished, it was up to James to find his own work within the trade he had been learning for four years, however with the possibility of the hats falling out of fashion or it being a highly competitive market, James struggled.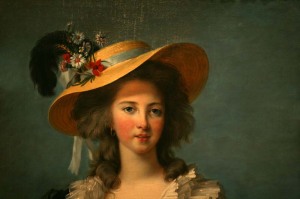 "When I came out of my time in 1854 the prospect of earning my living by my trade was gloomy and I tried all I knew to find something away from the trade, but without success". (Ashley p.4)
James's work ethic was shaped by his childhood experiences as I suggested in my introduction post. Family difficulties led him to adopt a strong sense of independence and determination in achieving a position of financial security, which his father never had. At the time James had read of the marriage between a man named "Joseph Christy to a Miss Derby of Coalbrookdale, who was a relative of Mr W.H Darby of Brymbo Hall" (Ashley p.5).  At the time James was rehearsing for a play called the 'Trial of John Barleycorn', in two parts as a witness, however the man who was playing the barrister, Mr Bott was in shared trade of iron with Mr Darby. As Joseph Christy was famous for hat manufacturing in London and Stockport, James thought he'd try and gain a letter from Mr Darby to Joseph Christy, stating his application in order to gain an apprenticeship for one of his firms in London. James was successful in doing this, he approached Mr Bott at one of the rehearsals and was promised an interview with Mr Darby, who then in turn gave James a letter to send to Joseph Christy with his application. This lead to the news of his success and was informed that he had a position of employment waiting for him in London.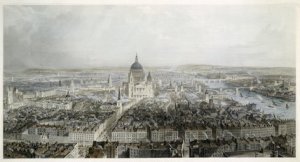 "On Monday, the 4th May, 1856 I left Wrexham for the battle of life in the great city, and as I left the house with my luggage in the omnibus I remember a neighbour, Maria Cittens, throwing an old shoe after me for luck." (Ashley p.6)
This specific incident to me exemplifies different objectives behind the purpose of this memoir. James portrays himself through incidents like this as someone with a good work ethic, not only do they want to strive to earn a living, but also want to escape the social barriers which are holding them in place, this for instance I believe is evident in James's wish to move away from Wrexham and start a new life in London. Where he believes there is more chance of success. He is writing to create an example of himself, not only to his future generations, but also possibly towards people who derive from a similar background.
James started his new job in London during the year 1856, and states a specific incident which happened during his first day involving his work colleagues and their traditional ceremony for new arrivals.
"I was invited to partake. I had then been an abstainer for five years and without Total Abstinence on too high a pedestal I have ever been thankful for the stand I made that day in refusing to take the beer." (Ashley p.7)
James states here that he had abstained from drinking for five years, and even facing the pressures of his new peers, he stuck to his original morals and refrained from drinking. I found this interesting that a working class man such as James would not drink. In the late nineteenth-century, reformers and social commentators frequently associated the working classes with drunkenness and unrespectability, even though alcohol consumption was widespread across the social classes. "In 1887, Battersea socialists complained that member of a local working men's club were sapping their morale with strong drink" (August p.193).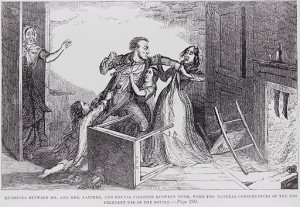 James continues to break stereotypes here within his memoir and even states drinking as a 'curse'. James seems to have shared this concern and in his memoir stresses his strong disapproval of excessive drinking among his class. … "Daily afterwards I saw the curse the drinking customs were to the men around me; if I had followed their course there would have been no possibility of uplifting" (Ashley p.7)
This quote only acts as further evidence to suggest James's division between him and the stereotype placed above him. He mentions that if he were to drink he would not be able to get up in the morning and work, which would prevent him from earning money and gaining a position of financial security. James also shows us that many working-class activists like himself strove to draw men away from the pub and into respectable and improving activities. It is through instances such as these which may have allowed James to become more consciously aware of his class, allowing himself to differentiate from social class barriers.
"For some Labour historians such as Hobsbawn, class specific leisure institutions such as the working men's club and the cooperative movement, provided a foothold for labour politics that helped engender a sense of class consciousness by the turn of the century." (Beaven p.4)
This leads me to again suggest that the audience based around this memoir are not just that of his children, but also his class. James writes for these two audiences hoping to portray a message of both a positive work ethic and the breaking of stereotypical boundaries, both of which are important factors in achieving financial success. James might not have realised it then, but towards the end of his life he did and that may have proved to be the motivation behind his writing.
Bibliography
Ashley James, Untitled, pg1-50,(c, 12,500 words). Brunel University Library. Vol:1 No:24
Beaven, Brad. Leisure, Citizenship and Working-Class Men in Britain, 1850-1914 Manchester: Manchester UP, 2005
August, Andrew. 'A Culture of Consolation?:  Rethinking Politics in Working-Class London, 1870-1914.' Historical Research, 74: 184 (2001): 193-219.
Crow, Charlotte. Demon Drink? Temperance and the Working class. History Today., http://www.historytoday.com/blog/2012/07/slideshow-demon-drink-temperance-and-working-class