Louie Emmeline Ould (c.1907-1991): Purpose and Audience
Original handwritten poem (Loneliness – by a Widow)
The memoir of Louie Emmeline Ould, originally Louie Emmeline Collins, was written, as far as I can see in 1972 where her last poem 'Loneliness – by a Widow' (Ould 9) was dated concerning the death of her Husband Thomas J Ould in 1969. She talks about her son Jonathan and how he 'grew up overnight' (Ould 8) when he lost his Father at age 16. The memoir follows her life from 1907. I think it is significant that she starts writing her memior after the death of her Husband in his 60's as she comments on not having many friends left 'I have lost several of my contemporaries and my Mother (93) has none left.' (Ould 8) Her motivation for writing the memoir could therefore be as a hobby to fill time after the loss of her Husband and friends. Personally, I think it is the death of those close to her has spurred her on to reflect on her life and express emotions through the use of photographs and poetry and to leave something behind for her family for when she herself passes away.'Consciousness is the miracle of man' (Moran) taken from Joe Moran's blog 'Do not go to the ant'. This, I think sums up Louie's feelings towards the death of her loved one. She is well aware and conscious that she is losing loved ones which therefore enables her to write such evoking poetry.
'Loneliness – By a widow
Life was when life was full,
Our cup overflowed with pleasure,
Never a moment, never a lull,
Evening alone brought leisure,
Legs now refuse me to obey,
In the 'happy home' I stay,
Now the loved ones all have gone,
Ekeing out life I carry on,
Stamps, hook and book, radio and phone,
So not lonely, but alone.'
L.E.Ould Jan 1972 (Ould 9)
There are several poems, photographs, certificates from her life which suggest she is writing her autobiography for Grandchildren, Great Grandchildren following her life from her birth. I think the memoir aims to provide her family with an account of her life. Discussing her Parents, Children, Grandchildren, life accomplishments, marriage, failed engagement, hobbies, poetry and photographs dating back to her own Mother and Father when they were aged 85 and 82.
The language used in the memoir is not very descriptive or feeling. I therefore think that the use of poetry throughout the memoir acts as Louie's conveyance of emotion especially through the poem mentioned above. The line 'Ekeing out life I carry on' (Ould 9) stands out to me as it expresses her state of mind and feeling more than any other part of the memoir.
I do not think the intended audience affects the tone of her writing as although I think it is aimed at her descendants it is not aimed at specific members of the family. She is writing her memoir to leave a piece of herself behind for them. It has personal meaning rather than something she has written to specifically be published or read by everyone so I think her style and tone of writing is very familiar rather than polished. The intended audience does influence what is included in the memoir as once again she leaves very personal items such as her school certificates with subjects passed from age 16 to photos of her Parents, Sisters and Grandchildren. Even old newspaper cuttings from when her son Jonathan was 14.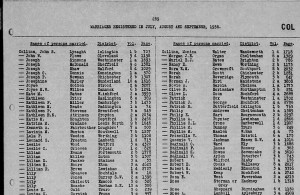 Marriage transcript from www.findmypast.co.uk featuring Louie Emmeline Ould
______
Moran, Joe. 'Do not go to the ant.' Joe Moran's blog, 21 April 2013. Web. Accessed 12 March 2013