Emanuel Lovekin (1820-1905): Purpose and Audience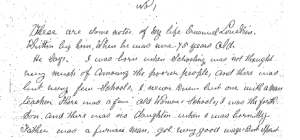 Emanuel's memoir begins with 'These are some notes of my life.' Expressing that his memoir was just 'notes' may display that Emanuel did not believe he was writing a significant piece of literature to anyone who may read it. His notes could be thoughts or feelings he wrote down to remember his life when he reflects. Regenia Gagnier implies that 'most working-class autobiographies do not have crises and recoveries just as they do not have climaxes' which, in Emanuel's case, does seem to be true. There is no suspense and no story line which leads to tragedy. It is simply 'notes' of his life' and thus may represent working class people who dealt with everyday as it came.
It is also written in chronological order from when he was born to his working life and his leisure activities. His last few pages were written as diary entries. A diary is usually a piece of writing which is kept private to whoever is writing it. As Emanuel got older, he began to talk about his last few months in diary entries which we can assume meant that his memoir was for personal reasons. It may have been for his family, close friends or even just for himself to reflect on his life as a hard working man who made the most out of every situation that he faced.
With Emanuel's memoir being such a personal recount of his life, this may suggest that it may have been written for his future descendants that have grown up not knowing about Emanuel and the impact that he made. Growing up as a child with 7 other siblings, he has never been shy of being surrounded by a large family. His large family continued, growing up as an adult, in which he raised 14 children. He often talks about his children and what happened to them to where they are now: 'We soon had children till there were 14teen [sic] of them, so I had always plenty of ways to spend what I got.' With the constant references to his children, where he always explains that they are much older now and involved with their own lives, suggests that his memoir may be for anyone in his family who may be searching and wanting to hear about their ancestors. They may read Emanuel's memoir to understand who he was as a person and how he lived back in the 19th Century.
I personally believe that Emanuel wrote his memoir to help inspire others, just as he was inspired by god. While at the young age of 13, he had an accident where he was bed ridden for 13 weeks. While in bed, he wanted to learn to read and write. It took one major accident for Emanuel to not give up on making the most of his life and his future. Without that accident could he have possibly been the writer he was in his memoir? Emanuel also became a fervent Primitive Methodist and active Sunday School worker, becoming superintendent and class leader. He stated that he was 'very thankful to Almighty god' for who he was. He also said that 'God had been my helper' and that he was 'still my only trust', implying that God had set Emanuel the paths he chose for a reason. He believed that God made him who he was so that he had to work hard and he was not someone who was handed everything without putting in the effort. His memoir demonstrates a hard-working working man, which he then believes will reward him, once he dies, in the afterlife.
Bibliography
Gagnier, Regenia. 'Working-Class Autobiography, Subjectivity, and Gender.' Victorian Studies 30.3 (1987): 335-363
Lovekin, Emanuel. 'Some notes of my life', MS, pp.32 (c.7,000 words). Extract in J. Burnett (ed.), Useful Toil. Autobiographies of working people from the 1820s to the 1920s (Allen Lane, London, 1974), pp.290-6.