Jack Goring (1861 – 1942): Audience and Purpose
 'Nip and Flip began it' (1)
– Who, you may ask are Nip and Flip? All the autobiography reveals is that Nip and Flip are pet names for friends, possibly relatives of Jack who he visited regularly in Sussex. Jack thought highly enough of Nip and Flip to use them as characters complete with their own adventures written for children under his professional name J. H. Goring. In all, Jack wrote three volumes of verse for children, Nip and Flip and Crumbs of Verse published by his brother-in-law C. W. Daniel, and The Ballad of lake Laloo published by Utopia Press. Jack only mentions the relationship between his friends in Sussex and the fictional characters of Nip and Flip the end of the autobiography, where you will find a five page prologue where Jack gives credit to them as being the originators of the suggestion that he write about his life. There are no clues as to their identities other than on the front cover of the autobiography saying that (in brackets) 'orig – ref'd to Mrs S. Houghton Elm Cottage, Slindon nr Arundel, Sussex, 31. 8. 83' – Apart from the Sussex connection, I can find no published examples of 'Nip and Flip.' (If anyone reading this blog knows of or owns a copy please let me know – I'd love to see it!)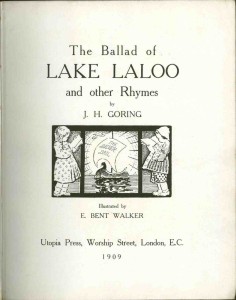 Anyhow, well done to both of them for pointing Jack in the right direction which '[Once] started on the backward path it seems as difficult to stop as if I had accidentally put in motion and got in the path of an avalanche'. The analogy is pretty accurate; there is a vast weight of information within Jack's autobiography. Sensibly, he starts at the beginning by giving an overview of his early upbringing, ancestry and family circumstances; focusing more on his personal life from the age of 14 when he starts his first job at a bakery.
The layout of the autobiography is interesting considering Jack's involvement with the publishing industry via his work as an advertising canvasser and his association with C. W. Daniel. It is hand-written and double-spaced, thus making it easier to copy-edit, which begs the question whether he had any thoughts of getting it published as he had with his previous works for children. Also the posthumous nature of the prologue crediting 'Nip and Flip' for gifting him the idea in the first place would hint that Jack was maybe planning publication as a more official gesture of gratitude towards his friends. One more fact that backs up the idea that the manuscript may have been intended for publication rather than just for family consumption, is that Jack rarely refers to family members by name (only two of his children, Margaret and Leonard are named directly). This anonymity is in stark contrast to a vast supporting cast of names – some very well-known – and all of whom are involved in some degree or other in many areas relevant directly to Jack such as: education, religion, political groups, literature, commerce and entertainment that Jack encountered or was influenced by on his journey through life. This has the effect of turning his autobiography into not just a collection of personal events that can only be read within the subtexts of home, family and work, but a document that is firmly embedded within a clearly defined social and historical context.
It is well to remember that Jack wrote his autobiographical notes in 1938 when he was seventy seven. So as to the intended audience, you do get the feeling as you read Jack's story that it goes beyond nostalgia and can also possibly be read as an attempt to reach out to other survivors of his peer group, with Jack repeatedly asking the question 'Who remembers it now ?' Indeed it has taken a fair amount of trawling via the internet to verify (and in some cases) identify those mentioned. For example, Jack mentions someone called 'F. R. Henderson, later of The Bomb Shop'(2) (p. 163)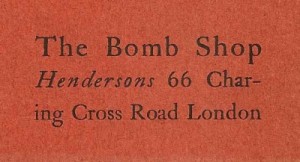 – sounds interesting, but who was he? – a lot of digging reveals that he was Francis Riddell Henderson, owner of an anarchist bookshop on Charing Cross Road, called The Bomb Shop supplying left-wing political reading matter such as The Clarion. The Bomb Shop's façade was decorated in red and gold along with the names of past rebels  by Walter Crane, contemporary of William Morris and fellow socialist (3). Crane also provided cartoons for The Clarion and Morris' Commonweal – 'Cartoons for the Cause.' It was Jack's friend and editor of The Clarion Robert Blatchford who first suggested that Jack ought to publish his children's books Crumbs of Verse and The Ballad of Lake Laloo. Jack's advertising company provided advertising for The Clarion, and to bring this story full circle, for many years, F. R. Henderson was not only Jack's good friend, but also for many years his next door neighbour in Wickham, Essex.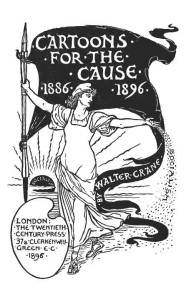 However, there could be other reasons for Jack putting pen to paper that has been touched upon earlier, with the idea that the addition of a prologue was to formally thank 'Nip and Flip' for their influence on his writing. Perhaps part of the thinking behind the autobiography was in recognition of a debt of thanks that extended to all of his friends, and with this in mind, although the quote below referred to authors who had influenced him over the years, the same sentiment could apply to all who touched Jack's life along the way….
'I owe most of them a debt of thanks. I may one day – if things turn out that way – be privileged to pay personally'
Bibliography:
1. 274 Goring, Jack, Autobiographical notes, MS, pp.332 (c. 27,000 words). Brunel University Library.
2. The Bomb Shop was sold due to financial difficulties in 1930s to Nina Reckitt (of Reckitt and Coleman's mustard) and re-opened as Collets. http://greatwarfiction.wordpress.com/2008/05/15/the-bomb-shop/
3. ibid