Norah Fearon Knight (1910-2000): Purpose and Audience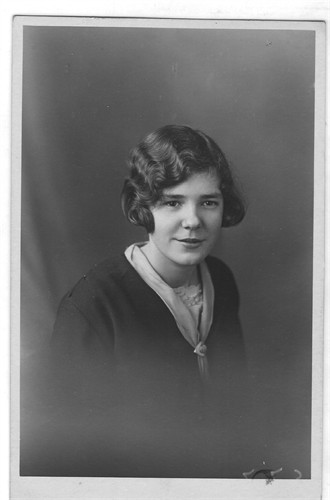 "I had hoped to end on a happy note, but while I have been writing, two more of the family have gone to higher places.
Dear, kind & gentle Harold, who gave me so much love, & Kathleen, to whom this was written, and with whom I spent most of my happy childhood, and so goodbye Kathleen, goodbye Harold." (73)

When Norah Fearon Knight began to write her memoir 'Nostalgia' it was early 1964, she was looking forward to her sister visiting from America 'in April of this year' (3) and she would have been 53 years old. She was married, living in a different part of the country to where she grew up and had two sons. Despite this, she focuses almost entirely on her childhood up until her father's untimely passing in 1922, when she would have been just 12. But, why?

David Vincent explains that: 'it is not what is said but rather what is not said' and this could explain why 'Nostalgia' focuses on the first 12 years of Norah's life – her decision not to write about life after this point perhaps being because she felt her life was not interesting enough after this point or perhaps simply because she was happiest as a child (1980, 226). Norah also offers a possible explanation herself, stating:

'Strange how our memory works, one can recall incidents that happened many years ago & forget things that took place last week' (70).

Whilst Norah does not give the details of how long a period of time she spent writing 'Nostalgia', in the closing paragraph she explains how her siblings Harold and Kathleen had passed away since she began writing. From death indexes accessed online, and later confirmation from one of Norah's sons Gordon who I have been fortunate enough to correspond with, I found that Kathleen and Harold died in 1965 within a day of each other. With this in mind then, Norah must have spent over a year writing her memoir. This perhaps explains why 'Nostalgia' reads like a stream of consciousness, Norah focusing on various moments that stood out to her and fond memories of games played, holidays celebrated and conversations had, rather than providing a more planned out, chronological account of her formative years.

Norah explicitly states that 'Nostalgia' is written for her sister Kathleen, with a dedication at the start: 'dedicated to my dear sister Kathleen with my special love' (title page) and at the end, 'Kathleen, to whom this was written' (73). It is clear from reading 'Nostalgia' that Kathleen and Norah shared a special bond and were particularly close, many of the accounts given by Norah being ones involving just her and Kathleen, perhaps their being close in age playing a role. It could be said that through focusing on her childhood, which she 'spent most of' with Kathleen, Norah is creating a record of Kathleen's life and paying homage to the impact she had on her growing up.

In this way then, 'Nostalgia' acts as a sort of tribute, both to Kathleen and the family Norah loved so dearly. She finishes her memoir by explaining how:
'Terry is painting a picture of the old house, so there will be a permanent memorial of an era…and of one family who lived and loved…and of the two dear people who were that family, Amy & Joseph Fearon' (73)

And maybe 'a permanent memorial' (73) is what Norah was trying to create through writing her memoir. It becomes clear by the end of 'Nostalgia', and can be confirmed through online access to death indexes, that at the time of her writing, Norah and Terrence were the only remaining Fearon siblings. Norah's writing down of her childhood memories then could be her way of keeping the memories she held so close to her heart alive and may even have been therapeutic to her, having experienced so many 'personal losses' (70) of those who gave her 'a childhood worth remembering' (9).

As a working class woman, writing about her every day life growing up, it is unlikely that Norah expected her work to be published. It is possible then that Norah wrote 'Nostalgia' with her children and future generations of family in mind, Regenia Gagnier telling how for working class autobiographers 'reasons for writing are functional rather than aesthetic: to record lost experiences for future generations…to teach others' (1987, 342).

Norah insinuates that her family experienced poverty and hardship during her childhood, 'there was never much money' (47) yet her tone remains fond, positive and upbeat at all times, singing the praises of her parents and the love and nurturing they showed her. For example she explains how she 'just couldn't understand how anyone could ever possibly love one parent more than the other' (63). This could be Norah's way of using autobiography 'to teach others' (those she suspects will read Nostalgia, maybe her children and relatives) that even in the face of adversity, love, togetherness and family is all that's needed to be happy (1987, 342).

Through telling the story of her upbringing, Norah has unknowingly left us with invaluable information about working class life in Seacombe during the early 20th century. George Acorn in One of the Multitude tells that 'experiences lived, and written down, are of more real value and interest than imaginary fictions' and this can be applied to 'Nostalgia', a memoir which tells us about family, community and neighbourhoods, housing and living arrangements, military experience, festivities and culture, and so much more in an early twentieth century working class household and town (1911, dedication) 
If you enjoyed this post and are interested in finding out more about the different experiences of those born in the early 1900s, why not have a read of Emma Sellars' blog posts about Fermin Rocker, born in 1907, here?
Bibliography:
Primary Sources:
Fearon, Norah. Nostalgia. (1964) Unpublished Memoir: Brunel University Special Collection.
2:457 KNIGHT, Norah Fearon, 'Nostalgia', MS, pp.73 (c. 10,000 words). BruneI University Library.

Secondary Sources:
Acorn, George. (1911) One of the Multitude. London: W. Heinemann.
Gagnier, R. (1987). Social Atoms: Working-Class Autobiography, Subjectivity, and Gender. Victorian Studies, 30(3), 335-363. www.jstor.org/stable/3828397
Vincent, David, (1980) 'Love and Death in the Nineteenth-Century Working Class', Social History, 5(2): 223-247.
Images:
(From top to bottom)
Image 1: Norah, portrait, 1920s, from a family collection held by D. Badger, Norah's great-nephew, accessed via ancestory.com
Image 2: Kathleen Fearon, England & Wales Civil Registration Death Index listing, accessed via ancestory.com
Image 3: Harold Fearon, England & Wales Civil Registration Death Index listing, accessed via ancestory.com
Image 4: Norah, Amy and Kathleen Fearon, from a family collection held by D. Badger, Norah's great-nephew, accessed via ancestory.com
Image 5: Victoria Road (now Borough Road), Seacombe, 1910. The main road in which Grosvenor Square (now demolished), where Norah grew up, ran off. Accessed via PicClickUK