Samuel Mountford (b. 1907) Purpose and Audience
Samuel Mountford began writing his memoir at the age of sixty-nine, and you can tell from the beginning that it is written in mind for a public audience. He writes very freely with seemingly no egotism in sight. He tells the story of his life chronologically and certain aspects of the memoir suggest an audience of younger readers. He enters stages of tutorship in the memoir, using phrases like 'no handouts in those days!' (page 2) to address the younger readers and highlight the differences between the present and the working days of everyone who grew up in the same circumstances as himself. He speaks to the youth on behalf of the elderly, and becomes a spokesman and representative for all the troubles they collectively had to endure.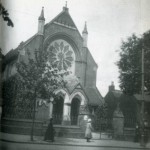 "Before I went to school, I had to go to some Church Hall every morning and was given a big cup of cocoa and two slices of bread and jam. Just fancy anyone doing that today!"
(Mountford, 6)
I believe Mountford's purpose in his memoir is partly education, teaching young readers about the differences in quality of life, and as a young reader myself I definitely found it effective. He speaks on behalf of other people who lived through the same ordinary struggles, as his struggles were indeed common for the majority of people during the 1900s.
At the age of sixty-nine Mountford began writing his memoir, perhaps because he felt like his health was behind him: "You see I am close on seventy years of age and now feeling a little worse for wear." (page 1). He concludes this by using the phrase under quotations: "You asked for a tale of my life, Sir. You would delve into the depths of my past." (page 1) This is exactly what Mountford stands by for the length of his memoir, and whilst many other autobiographers write sentimentally for family members, Mountford clearly would like to carry on his legacy publicly. He is extremely proud of his accomplishments, and he flaunts them in his writing, but this is heart-warming and adds to the story because his accomplishments are his family and the support he eventually managed to provide for them.
"A home worked and paid for, a few pounds in the bank, a kind and thoughtful family, with nine grandchildren and last but not least a wife who at all times has been by my side".
(Mountford, 27)
His persona feels generally colloquial with hints of assertion, which serves the purpose of the memoir. The storytelling aesthetic of the content makes it such an easy read for young people, whilst the assertion of many of his points make you really pay attention and respect the man who is writing it. His persona can somewhat be apologetic, as he can often get ahead of himself during the story, but rather than reconfigure what he has written and get back on track, he decides to leave it in. The memoir itself reads like one long session, with little to no editing to his thoughts.
The purpose of his memoir of course cannot be completely clear, but it serves itself effectively as a tribute to his own life, a declaration of his legacy, and an informative and educational text for younger readers who would like to read the real-life account of a working-class life in the 1900s. The text succeeds in being interesting while staying humble to his experiences, and serves a great purpose for an audience that possibly need a revelation on just how much things have improved from the past to their privileged present day.
Bibliography:
Mountford, Samuel, 'A Memoir', Burnett Archive of Working Class Autobiography, University of Brunel Library, Special Collection, 2:244.