Edward S. Humphries: Reading & Writing
In his memoir Edward S. Humphries does not focus on reading and writing very much at all. However this has not dissuaded me from writing a post on the experiences he has with both skills. The reason that Humphries does not include sections of great length on what books he enjoyed or how her marvelled in his imaginative interpretations of stories is because he was dyslexic. This does not however detract from his fantastically engrossing memoir, more so it only affected his childhood and early schooling. Humphries explains:
It now seems strange that whilst I had no difficulty in learning my Tables and spelling simple words, I could not memorize the Alphabet; indeed, i recall that i managed to learn the Alphabet backwards ZYX and WV, UTS and RQP, long before i could say my A.B.C.
From this we can not only understand that Humphries struggled with understanding and memorising the letters and structure of the alphabet. But we can also understand that because of his competitive nature he had to go one further and learn it backwards to prove he could do it. This competitive urge is what has spurred on Humphries throughout his life and memoirs to never give up and always strive for bettering himself. The normal alphabet may of not seemed enough of a challenge to the young determined Humphries and the backwards alphabet proved to be the very challenge he was searching for. By modern standards of education however, a child who cannot learn the alphabet by the time he reaches the age of 5 is considered to have a high chance of Dyslexia.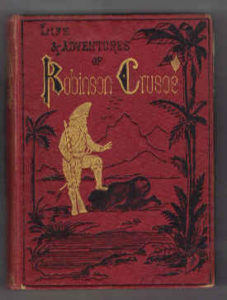 Humphries shares a fond memory of a book and how he enjoyed it. However it is not the engrossing story of the book's contents that interested him. Humphries begins to write of the first and only prize that he had won whilst at school. He explains how the crowds of children in the assembly hall cheered as he rose, walking towards the stage to claim his prize. when he arrived at the stage they cheered louder as he struggled, unsuccessfully, to mount the steps that lead to the high platform. The prize that Humphries had received, for achieving the highest marks in his religious class, was a copy of Robinson Crusoe.
The Prize, Robinson Crusoe, was I remember, a fine, large edition, on good paper and well illustrated, and compared favourably with the general run of books given as school prizes today.
For Humphries this was a defining moment within his school career. He had won his first award at a young age for being the top of the class. He also displays his views on modern day schooling by mentioning that the books that are given today are not of the same quality as back then. This illustrates Humphries' passion for hard work and that he believed in the importance of quality. These attributes are all things that shine within Humphries memoir, his dedication and enjoyment of quality craftsmanship. However, well made as the book was, Humphries makes no mention of ever reading the text in his early childhood memoir. This could possibly be because of his masculine desire to seek adventure and not have the time to read. Although it could also be attributed to his earlier learning difficulties of complex words and the alphabet.
From Humphries memoir we are treated to a masculine depiction of childhood that seems to avoid the intellectual side of learning. Humphries instead chose to focus on the activities and adventures that captured his drive for fulfilment of happiness. Humphries avoided boredom at all costs and reading and writing may have fallen into that category for him early on in his learning life due to his difficulties.
Bibliography
361 HUMPHRIES Edward S., 'Childhood. An Autobiography of a Boy from 1889-1906', TS, pp.63 (c.35,000 words). Extract in J. Burnett (ed.), Useful Toil. Autobiographies of working people from the 1820s to the 1920s (AlIen Lane, London, 1974), pp.209-14. Brunel University Library.
Rabbia Tariq and Seemab Latif. 'A Mobile Application to Improve Learning Performance of Dyslexic Children with Writing Difficulties' Journal of Educational Technology & Society. Vol. 19, No. 4 (October 2016), pp. 151-166
Images
The Life and Adventures of Robinson Crusoe – Here