Thomas Jordan (B.1892): Reading and Writing
As I have mentioned in previous posts, the memoir of Thomas Jordan are in the form of an oral history interview. We are unaware why he did not donate a written memoir to Professor John Burnett for the Writing Lives project, however we do know the he was literate because he discusses it in the interview. Additionally, he tells us towards the end of his memoir that he was in the process of writing an account of the first battle of the Somme for an author in France. At the date of the interview in 1976 he had 'about 3000 or 4000 words' (Jordan, 18) written down for the book and was about to send it over to France.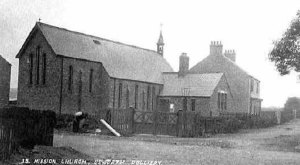 Thomas was educated in a local church school about a mile and a half from the colliery where he lived in County Durham. He does not mention much about what he was taught in school, but he remembers the school Marm insisting 'that you learned to read and write or she would be angry with you' (Jordan, 2).
'Robinson Crusade was my favourite book… in the year 1903 and I sat one long March day and read it through.' (Jordan, 2)
In this period, there was a strong religious focus in communities, as much for respectability rather than just practice, yet Thomas expresses how in his childhood he loved 'biblical stories taught at school' (Jordan, 2) and later in life he credits Christian Science for bringing him back into full health again after thinking he was going to die due to ill health in his 40's.
We can see from this that his early teachings in school, and Sunday School, were beneficial in terms of keeping his reading and writing at a certain standard and they helped him to keep 'an active life in many different jobs with scarcely a day's absence' (Jordan, 17).
'I began to study these books and realised- why I know nothing! But as time went on I became the leader.' (Jordan, 9)
I get the impression from his memoir that his parents pushed for their children to have a good education, likewise Thomas was active in bettering himself throughout his life after his schooling came to an end. He continued his studies during his time in the Army and again when he returned home after his service. Throughout his memoir Thomas tells us how he learned a lot from his colleagues and from his wife, who was a teacher in Durham, yet he also expresses that this interest in education wasn't something which only came to him later in life; explaining how he was often called upon to help in his community:
'In my young days in Wrekenton I used to do nearly all the writing for people that would come to me to do their writing for them- come to me to make out their forms out and all that sort of thing.' (Jordan, 9)
Thomas, Jordan. Untitled. Burnett Archive of Working Class Autobiography, University of Brunel Library, Special Collection, 1:405