Elizabeth Rignall (B.1894): Researching Writing Lives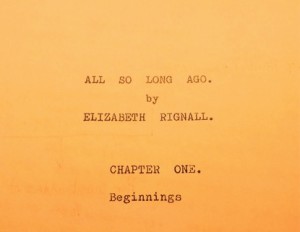 Having had no experience blogging, I was initially a little daunted at the prospect of my writing being available online. However, I found the world of blogging to be really enjoyable, with the Writing Lives project being such a collaborative process that I never felt isolated as I was constantly working with others in sharing and reading posts.
Writing lives has allowed me to refine my writing style in terms of making my blog posts simple yet interesting to read, as I was conscious that my tone should be welcoming to a wide range of readership. I was also able to improve my technique in summarizing information, as All So Long Ago is 14 chapters long, it was necessary for me to stick to key facts about her life that related to my topics of discussion. An aspect I initially found challenging was the use of social media in promoting and sharing our work, as I do not tend to keep up much of an online presence. However, I found that I soon adapted and was able to use Facebook and Twitter as great platforms for my posts. I also found it encouraging that through these social networking sites, I was able to support my peers' work on the project, as well as appreciate their help in retweeting and sharing my own work.
Julia Swindells states that there is a neglected absence of nineteenth century literature by female writers, especially working-class female writers: 'there remains something missing about women, our experience, our lives' (Swindells, 1985, 117). I think that the greatest achievement I have gained through the Writing Lives project is being involved in the reclamation of working-class autobiographies in our literary history, as well as having the privilege of relaying Elizabeth Rignall's memoir and her life as a working-class woman, determined to exceed society's limited expectations of her through her pursuit of education.
Tracing Elizabeth's life on ancestry proved rather difficult, as I was not able to find much on her through the censuses, perhaps owing to her remaining unmarried and having no children, as well as frequently moving up and down the country throughout her life. However, through searching public family trees, I was able to make a connection to Lambert Rignall, Elizabeth's younger brother, and contacted the owner of the family tree directly. I am awaiting a response to this member, yet it is greatly satisfying to think that I possibly helped someone uncover more of their family history by informing them of my work with Writing Lives and enlightening them of Elizabeth Rignall's autobiography.
Ultimately, my work on Writing Lives has equipped me with skills that are going to be useful in a wide range of careers. It has enabled me to work creatively in the overall look of my blogs, as well as improved my writing style and my ability to assimilate primary and secondary sources in enhancing an argument. On a personal level, I really enjoyed reading Elizabeth's memoir and found her rather an inspiring woman. At a time in which society systematically underestimated her capabilities due to class and gender distinctions, Elizabeth remained ambitious and independent, or, as one successful male factory head described her, as '"Fierce as a tiger, and clever as the Devil"' (Rignall, 89).
References:
Rignall, Elizabeth, All So Long Ago, Burnett Archive of Working Class Autobiography, University of Brunel Library, Special Collection, 1:586
Swindells, Julia, Victorian Writing and Working Women, Oxford: Basil Blackwell, 1985
Image References: 
All So Long Ago (My own image)
Lambert Rignall (Accessed: 08/02/16)