Charles V. Skargon (b. 1900): Habits, Culture & Belief
Early in 1914, about six months after I joined the Copenhagen, I was transferred to the S.S. Dresden which… sailed between Packeston Quay to Antwerp. I liked that run because in my off duty hours, Antwerp was a much more interesting city to explore than the Hook. I bought my first pipe and a packet of tobacco there and made myself sick after the first puff.
Charles V. Skargon, 'From Boy to Man the Hard Way', p. 7.
Early in his working life, Skargon had little free time to spare. A great contrast from his earlier childhood in which he would play with his brothers in the area of bog named the "mud" almost every day. Skargon's recreational tendencies changed over a short period of time, entering a world where his brothers and peers of the same age were not present and recreational activities would have to be basic as the other seamen and him were confined to a ship. Most of the peers he was now surrounded by either played cards or drank, and Skargon being teetotal was left with few options.
He resorted, as illustrated, to smoking, a pastime which was well suited to the outside nature of a seaman's work. It offered Skargon relief from the elements, particularly when he was on lookout duty, sneaking up his pipe and tobacco into the crow's nest and hoping the officers wouldn't catch a glimpse of the smoke. It was also a social activity, Skargon often going onto deck to talk and smoke with his crew mates. This is a habit which persists through Skargon's life, an activity which possibly was nostalgic, reminding him of his former life on the sea.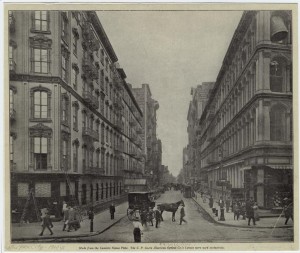 When the ships docked in port, Skargon would often venture out into the city to explore. This would take him to places he would not have seen before, such as the exhibition hall in Mumbai spreading awareness of venereal diseases. Skargon enjoyed seeing the world, looking back on the many places he visited fondly in his memoirs. It gave him, I think, a sense of accomplishment and the feeling that he had done a lot with his life. Most prominently though, it sated his curious nature and in New York especially his investigative skills were put to the test. Having the task of seeking out "Granny's" estranged sister in his visits to New York must have been like a quest to Skargon. His success in the task is reminisced in the last few pages of the memoirs, 'My visits to New York, however, had at least one good result. I had been the means of bringing the two old sisters together again after such a long while apart and they had ended their days in each other's company.' (230-231)
I knocked on the door and waited. After a couple of minutes the door opened and there stood a little old lady about five foot high with a rosy smiling face and silver grey hair. She was the image of her sister old granny! I knew then that my search was ended.
p. 81.
Writing was Skargon's usual way of passing time however. He frequently wrote letters which would give details of his life and experiences and in later years these would inform his greatest piece of writing: From Boy to Man the Hard Way. The autobiography is a work which Skargon clearly has a lot of pride in, unapologetically retelling the details of his life, good and bad.
Charles V. Skargon', in John Burnett, David Mayall and David Vincent. 'The Autobiography of the Working Class: An Annotated, Critical Bibliography', Brighton: Harvester, 1984, vol. 2, no. 712.
Skargon, Charles V. ' From Boy to Man the Hard Way', Burnett Archive of Working Class Autobiography. University of Brunel Library, Special Collection, 2:712.
The New York Public Library: Digital Collections. 'New York Street Scene, 1910.' [online]
Available at: http://digitalcollections.nypl.org/items/510d47e1-4150-a3d9-e040-e00a18064a99
[Accessed 10th January 2015]