Lottie Martin (1899-1976): Researching Writing Lives
After an introductory lecture on Writing Lives, I took away a concept that I wished to explore and contradict in both my research and blog tasks. This concept was of the view of the working-classes being idle. Indeed, my chosen author, Lottie Martin, allowed me to explore this derogatory viewpoint in great depth. I also wanted to bring recognition to the life of an ordinary working-class woman of the late nineteenth, early twentieth century.
Not only was it fascinating to learn that Martin's memoir was published posthumously by her granddaughter under the title Never Let Anyone Draw the Blinds, but this published memoir also includes images of the Martin family and the area in which they lived. This quite literally brought the author to life.  
Additionally, Martin's autobiography negated the concept of the poor being idle. Lottie has a coherent, articulate and grammatically correct writing style; a style reminiscent of one of the literate, Victorian middle-classes. But it is not only Lottie's writing style that illustrates her active part in history. Although from an ordinary labouring-class family, Martin explores a range of important themes such as: labour, home and family life, education, reading and writing, habits, culture and politics, which all contribute to the reinventing of history.
Lottie writes about her birthplace of Beeston, Nottingham with incredible nostalgia. I have explored several websites on the local history of Nottingham and have come across one particularly useful website: www.beeston-notts.co.uk, which explores, and provides pictures of, the local history of Beeston. In each blog, I have attempted to contextualise the role Lottie's birthplace played in relation to the chosen theme of the blog. For readers, this will be an illuminative insight into the local history of Nottingham. I feel as though I have contributed enormously to public history by writing about the working-class community of Beeston; bringing to life an area bursting with history.
It has been a highly rewarding experience to be a researcher. Of course, time is a major factor when researching as there are several aspects that need to be addressed in a short space of time. This has meant choosing an autobiography with my particular interests; exploring secondary material that gives good understanding into the contextual factors explored in the memoir, and also writing approximately ten blogs to be published on the Writing Lives website. From independent research I have become more selective when using secondary material and more critical of my own work. It has also been useful collecting and applying information accordingly; taking the time to realise what is and is not relevant to my own work.
Working as part of a collaborative research project has also been extremely rewarding.  It has been highly informative to be able to read other people's blogs and gain insight into their research, finding out more about their chosen authors. Also, by working in a research group, I have been able to proof-read the work of my peers which has subsequently enabled me to be more critical about my own work. In turn, this has given me skills to tighten my own writing style.
The main form of assessment for Writing Lives was to produce approximately ten blogs. Blogging is a way of producing quick, accessible information to online readers. Prior to the Writing Lives project, I had no other experience of blogging. As a student of English, my writing has been mainly in the form of essays. It has been a worthwhile experience to write in a different medium, as I have been able to break away from the more regimental, traditional essay.
Indeed, blogging has allowed me to shape my own academic writing. Through researching, writing and proof-reading blogs, I feel as though I have become a more succinct writer. As blogging is a more informal style to essays, I have been able to adapt another writing style. This has proven useful for skills in essay writing. For instance, when writing an essay, I feel as though I can now be more critical of my own work, making my style more succinct by discarding what may seem superfluous points in my writing.
A further aspect to the Writing Lives project has been to promote the website by using social media. There have been many talks and articles on the role social media plays on the academic world. Most of these articles have been negative towards social media. However, through using Twitter as a way of publicising both the Writing Lives website and our own contribution to the project, we have been able to extend our readership to a wider audience. This is a way of promoting Writing Lives to other academics, historians and people who are generally interested in the role of autobiography and local history.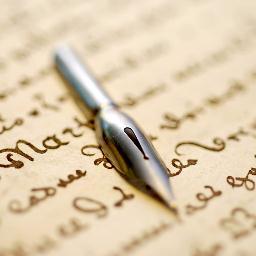 Through Twitter, I have been able to promote my hard work researching the life of Lottie Martin and made this information available to a wider audience. Twitter has also been a way of finding out further information that contributes to my own research. By tweeting a concern or query, one can gain more information – in a short space of time – when other people reply to one's tweets with relevant information.
The most beneficial aspect of being a part of the Writing Lives project is that I now feel I have become a more flexible and succinct writer. I can now adapt my style of writing to different audiences and purposes, whether it is for academics or the general public. I have also gained – through the research aspect of the project – a great interest in local history. It is the highly moving and exciting aspects of research that makes me want to explore my own family genealogy and continue in the world of research.
Overall, it has been enormously rewarding to publish my work on the Writing Lives website; sharing my interests and research with an extremely wide audience of online readers.
Bibliography:
Barker, Lottie, 'My Life as I Remember It, 1899-1920′, TS, pp.70 (c.31,000 words). Brunel University Library.
Burnett, John, David Vincent, David Mayall (eds) The Autobiography of the Working Class: An Annotated, Critical Bibliography (Brighton: Harvester, 1987) vol.2 no.37.
Hill, Paula Never Let Anyone Draw the Blinds by Lottie Martin (Nottingham: 125 Bramcote Lane, 1985).