Thomas Jordan (B.1892): War and Memory
Thomas Jordan left the mines of Durham after the 1912 National Miners Strike and enlisted in the army on April 15th, aged 20. Although Thomas saw service in the First World War in France, the Balkans, Egypt and Palestine, surprisingly enough he does not mention the war throughout his memoir, aside from briefly talking about his colleagues.
'I met some cleaver people in the army and consequently I'd got a little bit in advance of the rest of the village people.' (Jordan, 9)
The main focus of Thomas' memoir is his upbringing- his childhood and his education- and the life he has led told through stories of labour and admiration, yet at the time of the interview in November 1976 he was 84 years old and, I believe, he a was a man who did not want to dwell on the past. He mentions that when he left the pits for the army in 1912 that he never thought he'd have 'future meetings with my Usworth putter friends… on the battle fields of France, the Balkans, Egypt and Palestine' (Jordan, 7) and he gives examples that he was called up in 1921 again, this time 'on the reserve- the Suffolk Regiment' (Jordan, 14), but he does not go into detail about his time during the war.
Thomas talks about the services in a light-hearted reminiscent tone, appearing somewhat detached from the topic of war, but his commentary on the scenes of life in the military make the audience aware that he was fully emerged in the occupation.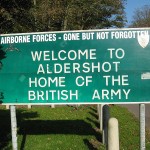 'When I enlisted in the army- and I went into the barrack room in Aldershot- … I thought I was going into hell- but I got into heaven- to see the clean, hand-scrubbed barrack room floors and everything spick and span.' (Jordan, 13)
Although he does not give the war a second thought in his memoir, we know that he survived both world wars, providing his services along the way, and that he returned home after to continue working to support his family. The oral memoir was collected after a plea from John Burnett was broadcast on radio's Women's Hour in the late 1960's therefore Thomas might have wanted to keep the content light, likewise he could have been conscious of his family reading the memoir and the distress it may have caused.
Thomas, Jordan. Untitled. Burnett Archive of Working Class Autobiography, University of Brunel Library, Special Collection, 1:405