Thomas Raymont (1864-1949): Reading and Writing
'Let me confess at once that I was drawn into the ranks of 'P.T.'s', not because I loved teaching, but because I loved study. Teaching gave me opportunities for study which I should not have had if I had started to learn a trade, the only alternative for me.'
We can see from the above quote that Thomas Raymont's hunger for studying was a catalyst for his career in education, with Thomas confessing in the same paragraph that his pupils performed poorly under inspection in his earliest days of teaching because 'I knew that I had sometimes been surreptitiously studying – perhaps learning the Latin grammar, when I was supposed to be teaching.' (pp.9)  Thomas' need for study came from an early age as he recalls his earliest educational memories in the dame school and 'the dame being, as I recall her, a capable and gentle lady who caused me to absorb the contents of Mayor's Spelling Book' (pp.3)
And Thomas' talent for reading and writing particularly shone at an early age, evidenced when he tells us that 'The annual examination under the Revised Code had taken place, and I had 'passed in all three', as the saying went, the three being reading, writing and arithmetic.' (pp.4) Not only had Thomas passed the examinations, but he had done it being younger than the age required to take the examination, a mistake by the school. Thomas was not only extremely interested in reading and writing, he was extremely good at it as well.
Thomas also tells us that he 'was the most studious member of the family' (pp.6) and following the death of his older brother Jim, made an effort to read as much of his library as possible which contained 'probably about a thousand volumes.' (pp.6) Thomas found himself surprised to be 'somehow attracted by the look of four volumes of sermons which had been presented to Jim by a friend, and which Jim himself had probably not read. The sermons were those of F.W. Robertson – Robertson of Brighton. I began reading them and was soon fascinated, not only by their deep spirituality, but also by their breadth of outlook. They seemed to provide me with exactly what I wanted to free me from the narrow orthodoxy which up to that time I had been offered, but never really accepted.' (pp.6-7) Despite not being particularly religious himself, Thomas found himself interested in religious works that had depth and perception to them and shows that Thomas wanted to learn about even the things that did not particularly resonate with his own beliefs.
James Hinton remarks that the working classes 'were anxious to deploy a taste for high culture as a means of distinguishing themselves from their self-assigned class.' and that 'By drawing on "culture" – "the best which has been thought and said in the world" – creative individuals might find the resources to critique established social norms, advance their individual quests for a meaningful sense of self, and, in so doing, open up new ways in which a society could imagine, and shape itself.' (Hinton, 2008) We can see this in Thomas, as he appears to be someone who is not comfortable with performing the assigned role of his class, and rejects the idea of working a trade which would be customary for many of the working classes, due to his love of reading, writing and above all studying and learning.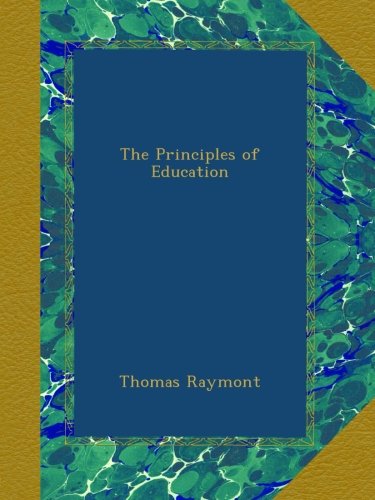 As mentioned in my earlier blog 'Education and Schooling Continued', Thomas became a published author in the field of educational theory, starting at the age of forty with the release of The Principles of Education, which 'took its place at once as a standard text book.' (pp.15) This book would, according to Thomas, go on to have a run of forty-three years as a staple in educational theory. He also later released Modern Education, which was supposed to take his first books place and also wrote 'a small book entitled 'Seven to Eleven: Some problems of the junior school.' It was well received and continues to have a good sale.' (pp.15) Thomas' studious nature undoubtedly attributed to his success as a writer in later life, as the mass of books that he had studied during the course of his life gave him a broader view of all aspects of life in his later years.
However Thomas was not always a keen supporter of learning from books, particularly if this involved something that could be better learnt from just experience. He tells of his 'Physical Geography' classes and how the headmaster taught the pupils this subject by 'reading to us without note or comment, the examiners treatise on the subject.' (pp.10) In the subject Thomas 'secured a second-class honours certificate, which I destroyed because I was ashamed of it.' (pp.10) This shows that Thomas was not comfortable with learning these very physical subjects through the medium of reading and remarks 'My so-called knowledge was derived entirely from books. I never saw a farm except by looking over hedges and fences, and I hardly knew the difference between a turnip and a mangold.' (pp.10)
Thomas' love of reading and writing ultimately shaped the course of his life as it gave him the opportunity for knowledge which ensured he was a highly successful teacher. It is also clear to see that Thomas understands the limits of what you can learn from reading a book which arguably would have made him a better teacher than those who taught him these subject by reading the textbooks out to their classes. His high levels of reading also made him a more successful writer, as the breadth of knowledge at his disposal gave him more scope on the subjects of which he wrote of.
Bibliography
Raymont, Thomas. 'Memories of an Octogenarian 1864-1949', Burnett Archive of Working Class Autobiographies, University of Brunel Library, Special Collection, 1:571, available at: http://www.brunel.ac.uk/__data/assets/pdf_file/0003/139278/BurnettArchive.pdf
Hinton, James. 'The "Class" Complex': Mass-Observation and Cultural Distinction in Pre-War Britain', Past and Present, no. 199, May, 2008
'The English spelling book', in
Archive <https://archive.org//>
[accessed 25 April 2019]
'The Principles of Education', in
Amazon <https://amazon.co.uk// >
[accessed 18 April 2019]